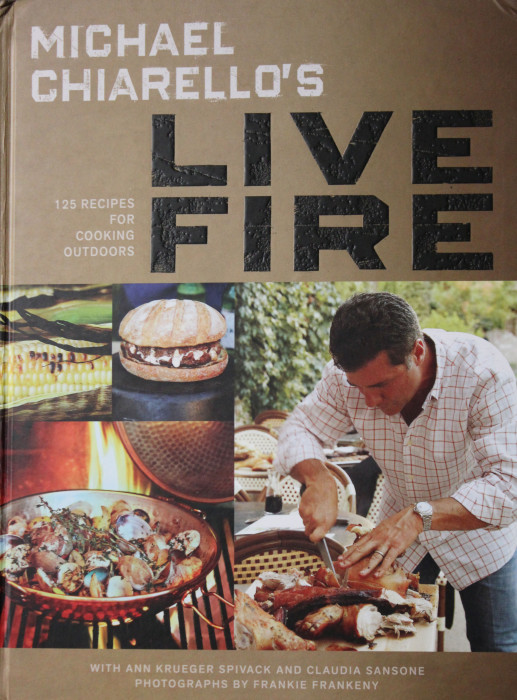 This is about a cookbook with a mission: to change your perspective on outdoor cooking. Live Fire is not a grilling book. Not a barbeque book. Not a smoker book. This is about how to cook with fire, be it a barbeque container, or a gas grill or using metal lattice over red and ash gray logs. It is about fire, live blazing fire, and the opportunities it creates for inspired cooking.
We are, as humans, drawn to fire, to the light and to the heat. And to the power it provides to transform raw ingredients into memorable dishes. Those ingredients can be chickens or a whole hog. Flame, according to Michael, does more than cook. It can add flavor. So, as an example, he provides a recipe to transform left over mashed potatoes into culinary elegance.
There are 125 recipes here, from sauces to drinks to burgers, along with the occasional goat or pizza. There is fish and shellfish, and there is breakfast. Every meal idea you've had can be transformed with flame, with live fire.
Here are some representative ideas:
Whole Lamb with Mint Pesto and Chile-Fennel Tzatziki
Grilled Pasta with Grilled Meatballs
Grilled Avocado-Mango Guacamole
Grilled Lemon-Saffron Pound Cake with Lavender and Fresh Berries
Lamb Burgers with Ember-Roasted Onion Puree and Grilled Peach-Nectarine Mostarda
Roasted Potato Salad with Roasted Garlic Dressing
Roasted Garlic Pizza with Grilled Tomato Vinaigrette and Arugula
Grilled Ahi Tuna with Carrot Caponata and Broken Carrot Vinaigrette
Grilled Potato Polpette with Wild Mushroom Filling
Roasted Lemon Granita
Lamb Ribs with Salta Mint Sugar
Smashing Pumpkins with Mint Pesto and Goat Cheese
Roasted Apricot Bellini
Roasted Strawberry Lemonade
As you can see, there are recipes here for a few folks and for a feast. This book is targeted to celebrations, for family or for the neighborhood. Do you give an annual summer bash for the folks in your cul-de-sac? Do you want to impress? Overwhelm? Be remembered for the rest of your life? This is your bible.
Yes, you can grill avocados and make sublime guacamole. It's a standout favorites at Michael's restaurants.
And as you can see, the recipe titles are longish. It's not just grilled pumpkins but pumpkins with mint pesto and goat cheese. The pound cake has lemon and saffron with lavender and berries. The recipes typically encompass some steps, but each is so compelling complete that just three or four of these dishes provide an army of flavors
With each dish having its own complexity and satisfaction, when you combine them you are literally constructing a flavor skyscraper. Just a few dishes here will take you to dramatic heights.
If a block party is not on your Outlook calendar, but you really, really want to go upscale on your weekend cooking, then Michael Chiarello's Live Fire will light your path.
Suzen and I will be testing recipes over the summer and letting you read about the results. Be prepared for Lamb Burgers with Grilled Onion Purée!