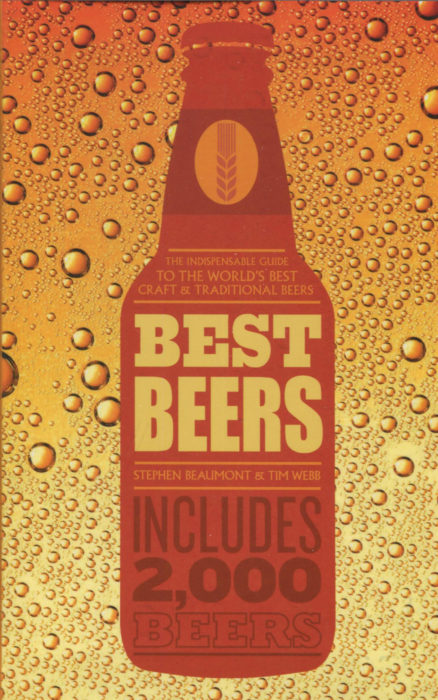 Do you have one of those mega beers stores near you? The size of a supermarket with hundreds, if not thousands, of brands to choose from. Beers from every corner of every continent.
I go in and I'm immediately overwhelmed. I could take a guide, like the latest edition of The World Atlas of Beer by Stephen Beaumont and Tim Webb, but it's a bit hefty to lug through the aisles. I need something smaller and lighter.
And now I have it. Stephen and Tim are beer experts with decades of tasting, writing, and recommending. Now, they've put their considerable and detailed experience into Best Beers. It's a "mere" 300 pages — so there is plenty of info here. But the book is just a little bigger and heavier than my iPhone. It's ideal for taking on a stroll up and down the beer aisles as you ponder the products of every continent except Antarctica. [Actually, I bet those scientists locked up for months are making brew, too!]
The information here is organized by country, sixty countries in all with over 2,000 beers presented before you. You are certain to see dozens here that have escaped your attention, no matter how devoted to beer you are.
You get a beer introduction with the announcement that the world may have 20,000 different breweries. There are countless beers and in an earlier the authors featured even more beers. But the growth of beer varieties has made the authors follow a different path in Best Beers. Rather than try to look at "almost everything" they've shifted in this book to the very best. Now, 2,000 bests is a lot of bests, but that's good news for you. You can plan on a long and tasty year or two.
There's a strong section on beer creation. And an even more useful one on beer style. What does "Belgian style" mean? An Irish Red Ale [not an ale at all actually]? A Baltic Porter? A little reading of this preface will arm you for your tour of nearest beer castle.
[I was not joking. There is a shop called the Beer Castle in Brooklyn.]
For each country, there is an alphabetical list of the top beers with just one or two sentences of fact-filled guidance. More importantly there are lists of national brewing treasures: the iconic breweries of each nation and, at the pinnacle, the top breweries that you should look for if you want the very, very best. And, there's a list of breweries to watch, the best of the new ones in that rapidly expanding beer community.
Best Beers arms you with the information you need to take diverse tasting paths. What are the historically best breweries? What are the hot new ones? You can set yourself up for a tasting of the greatest and the latest by just consulting a few pages of Best Beers.
The USA section is thirty pages, a tenth of the book. That means there is a world of beer out there you may not have tested yet. And I'm not talking Corona. How about an Audit Ale from Great Britain, a Knurr from Norway, or a Black Mamba from Argentina?
There are 2,000 ideas in Great Beers. How do you begin? One bottle at a time.