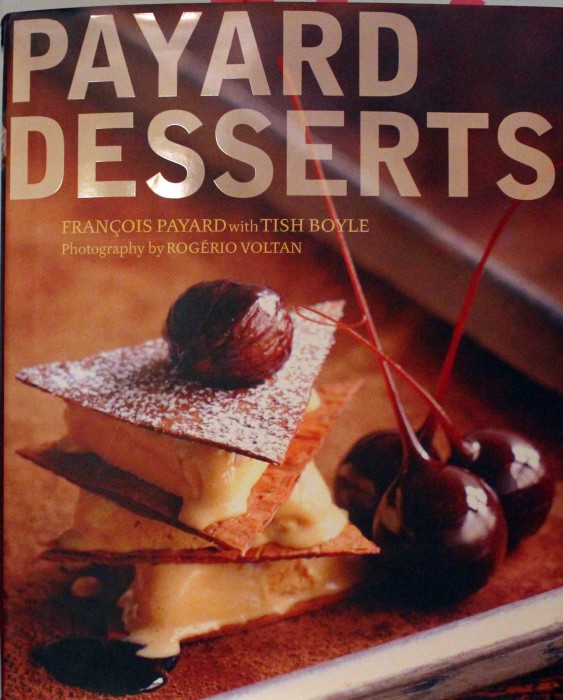 Yes, at the very top of the picture you'll see some red tags that I did not quite crop out. When you get your copy of Payard Desserts, you'll have plenty of stickies, too.
Payard Desserts is a beautifully serious and yet wonderfully practical book, just the kind of book I have longed to have. It's a book dedicated to plated desserts. What's that? You've gone to a restaurant, ordered a dessert with a long title, and then been served not a single item but a composition. Something that is visually striking, with a symphony of flavors, and that is totally intimidating. "I could never do this myself," is the first thing that comes into your mind.
And now it can be the last thing on your mind. For that fear of "I can't do this" can now be conquered thanks to the very skilled Francois Payard and his co-conspirator Tish Boyle.
Payard, with a rich history of working in the kitchens of the very best restaurants in Paris and then New York, has a very strong dessert philosophy: a great dessert is a simple one. It may have several pieces, that's true, but they are simple pieces and the complexity of the ultimate dish only comes into play when you assemble the pieces, which in these recipes is a matter of minutes and not hours.
Plated desserts are a recent culinary addition. Three decades ago, in the top restaurants around the world, if you ordered cake, you got a piece of cake. Now the cake arrives as the centerpiece, but in a plated version where there may be ice cream, whipped cream, chocolate garnishes, sauces on and sauces around. Visual complexity is the key. You pick up your fork or spoon, but you hesitate. What do I taste first? There is so much on the plate or in the bowl.
Payard generates that final complexity to impress and to reward you. But the pieces are, as I said, simple. In Payard Desserts, you'll find 25 years of his favorites. Payard explains how, as he worked in different restaurants with different sized kitchens and conditions, he was evolving his recipes to meet the constraints he faced: a smaller space than before to prepare dishes, more covers each night so more desserts to prepare in less time, … He had to adjust, without sacrificing quality. This book is a tour of his adaptability as much as his creativity.
What kinds of desserts are there to tempt you? How about:
Apple Spiral Tempura with Apple Cider Reduction

Pear Poached in Passion Fruit Caramel, Arlette [cinnamon and puff pastry], and Nougat Ice Cream

Buttermilk Scones with Strawberry and Tomato Jam

Steamed Meringue and Rhubarb Cream with Berries in Vanilla Bean Syrup

Dark Chocolate Soufflé with Pistachio Ice Cream

Red Berry and Tomato Gazpacho with Yellow Tomato Sorbet and Tomato Chips

Watermelon and Vodka Soup with a Limesicle and Lime Syrup
The emphasis is flavor and therefore freshness and therefore fruit. Lots of fruit, but served in ways you might not have expected. For example, there is that Red Berry and Tomato Gazpacho. Suzen and I made this and you'll find the recipe and a photo posted on June 29, 2014. It's beautiful to behold and lovely to indulge in. Just like all the recipes here.
One great aspect of Payard Desserts is the introduction of techniques you might not have thought about or tried. Using an apple spiral is something I have not done — although somewhere in my basement there is an unused apple spiraling machine which I can now put to use. Creating a meringue with steam, instead of baking, is something I never heard of, but Suzen and I are happily about to try.
Every recipe here has some gems that can you can use. Even if you do not make an entire dessert, there are components that you can borrow and use for your own creative streak: a mint syrup, the strawberry and tomato jam, or a chocolate-passion fruit sauce.
The typical recipe here has 3 or 4 components. You can space out creating them over a day or two, then be ready to play architect/engineer as you assemble all the parts into one visual and culinary extravaganza. There are beautiful close up photos of each dessert so you do have a roadmap to follow in that assembly process.
These creations were first made in top tier restaurant kitchens with incredible ingredients and equipment all at hand. And, in a restaurant kitchen, you don't make one of these desserts for the night. You make a lot.
How does that environment and volume of creation get translated to your home kitchen, where you have "normal" equipment and need the recipe scaled for a few people, not fifty? Francois wrote this book with the indomitable Tish Boyle. Tish is a dessert maven with experience at major magazines and at creating magnificent cookbooks. You'd love her The Cake Book, The Good Cookie, Chocolate Passion, or Grand Finales: The Art of Plated Desserts. Yes, Tish has worked on plated dessert books before, so she was the perfect cohort for this grand effort by Francois Payard.
Most of us find ourselves intimidated by high-end restaurant food. Back in the kitchen, there's an army, sometimes working 24 X 7, creating all the elements that are combined into one grand dish after another. Desserts, plated desserts, come to us in stunning display. If you've wanted to do it yourself, but never knew how, then Payard Desserts will sweeten and brighten your life.