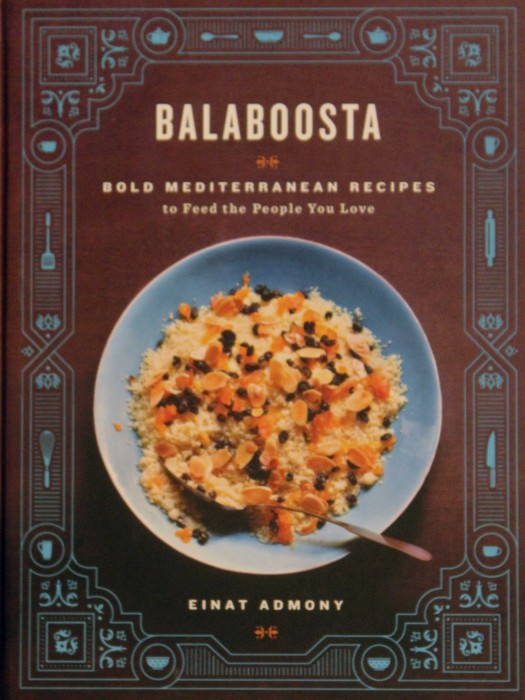 Einat Admony is one of those New York stories that make New Stories. She's a master of Israeli fusion cuisine, the owner of three NYC restaurants, and the author of Balaboosta. Balaboosta is a nice Yiddish word meaning "perfect housewife." And perfection is the hallmark of Einat's restaurants and this book.
Einat won a round at Chopped. And she's been to cooking school in Israel. But those first rounds, at the side of her mother for hours in the kitchen, is where she learned to cook with authenticity. Her Persian mother surely introduced her to concepts, recipes and spices that went beyond many of the other kitchens in her childhood neighborhood. Other influences include some travel time as a "gypsy" in Germany, a stint in the Israeli Army as a surreptitious cook [she was supposed to be a driver but she could not be repressed], and then stints in key New York City restaurants.
Even with all her restaurant work, Einat loves to cook for family and friends. And Balaboosta, named after her second restaurant, is organized around, not salad or main dishes or desserts, but around the cooking situations we all encounter in our personal lives including:
The Grown-Up Table: Casual Dinner Party Dishes
Kidding Around: Recipes to Feed Your Kids
Hurry, Hurry, Hurry: Quick and Easy Meals
The First Cut is the Deepest: Foods that Comfort
Just the Two of Us: Romantic Dishes
The Backyard Barbecue: Recipes Best Enjoyed Outdoors
When Dinner Can Wait: Slow Cooked Options
Thinking About Home: Mostly Israeli Recipes
Fancy-Schmancy: Restaurant-Worthy Dishes
The 140 recipes in the book are described as "bold Mediterranean" so you can travel from Israel to coastal North Africa just by turning a few pages. As you travel, you encounter recipes ranging from those simple quick and easy ones to signature restaurant fare:
Casablanca Catch: fish fillets combined with the chickpeas, fresh chilies, red bell pepper and preserved lemons
Moroccan Chicken Tangine: harissa, paprika, cumin, turmeric, those preserved lemons again, lots of garlic, fennel, olives and mint. Oh, yes, and chicken.
Zucchini Patties: freshly grated zucchini with dill, onion and Challah bread crumbs
Sinya: Palestinian comfort food layering fried eggplant, tomatoes, ground beef and lamb, bread, spices galore, pine nuts and a home-made tahini topping
Coconut Milk French Toast: made with Challah and topped with cream cheese and berries
Gazpacho Duo: pairing up both melon and tomato strawberry gazpacho versions
Malabi: milk custard with orange brandy sauce
Seared Snapper: served with Red Pepper Lemon Sauce atop Rice Cakes flavored with saffron, mustard, raisins, and fried onion
Aioli: in multiple versions of lemon, garlic and saffron
Labne: Arabic soft cheese you make overnight with strained yogurt and flavor with za'atar
S'chug: her father's hot sauce made from garlic, red chiles, jalapeno, cilantro, cumin and oil
My sampling of her recipes here has dual purpose. First, you can see that some of the dishes, like the Seared Snapper, from her Fancy-Schmancy chapter, are complex layers of flavor and texture. Where you read the recipe title, you will salivate. When you look at the picture, you will not hesitate. It may be fancy, but like all the recipes in this book it is eminently "do-able."
Second, a recipe may have a different name, like that last one, the S'chug. But the ingredients are ones you know: chilies, cilantro, garlic, … Yet here, you look at the picture, at this rich vibrant green sauce, and you know you'll be tasting something just different enough to make your life a little richer. And a lot hotter.
It is the combinations, the proportions, the techniques, the nuances that make these recipes from lands far away seem not quite so far after all. That Chicken Tangine looks like chicken stew with "stuff." Now the "stuff" includes preserved lemon and harissa — home-made harissa with lots of garlic and red pepper and paprika and other flavor bombs. So, if you have never had Moroccan food before, this "stew" will spiritually transport you to North Africa.
And in the end, that's what Balaboosta is about. Letting you experience new combinations, presented in new ways, to generate a new round of "ahs" from your family and friends. And even from you.
There is a full spectrum of recipes in the book: from the simple to the complex, from vegetarian to beef and lamb in the same pot, from quick to slow cooked for hours. Yet in none of this variety is there a hurdle too hard for you to clear. Many of the recipes are "short" but even the "long" ones are deliberately written, in simple steps with clear language. If you want to sample the best in Mediterranean flavors, but you can't find your passport, then take an adventure with Balaboosta.
One note of importance here. Suzen and I have only begun testing recipes here. At the Boston Globe, they posted a review with some concerns that several of the recipes had issues with the wrong quantities, like 3 tablespoons of salt when it should be 3 teaspoons. The recipes in the book were note, unfortunately, tested from beginning to end. The Globe and I agree: great ideas for flavor. When you cook from this book, proceed with a bit of care and employ your practical experience. The Globe review can be found at
http://www.bostonglobe.com/lifestyle/food-dining/2013/11/26/this-balaboosta-needs-little-help-kitchen/7BRdIsHhGwB2xrXh0a8hFO/story.html