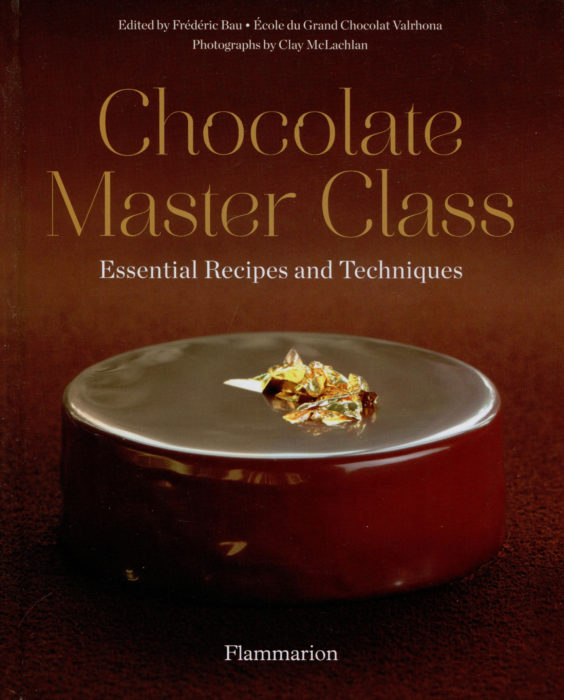 We get our chocolate fix in many ways. That snatch of something on the side at the checkout stand of the supermarket. I cookie jar awaiting a midnight raid. A Sunday spent in the kitchen fashioning cake and frosting, perhaps to receive candles for a special day.
And some of us wish we could go to France to chocolate school and really, really learn how to become a chocolate master. This important book, Chocolate Master Class, helps you begin fulfilling those dreams. Edited by Frédéric Bau of the École du Grand Chocolat Valrhona, this is an intense book. It won't necessarily make you a chocolate professional, but you could boast of having a master's degree in chocolate.
The subtitle for this volume is Essential Recipes and Techniques. That is precisely what you get. First, a set of techniques, one per page, clearing giving you directions to manage your chocolate journey: how to melt, temper and mold. How to make ganache and cake batter, pastry cream and sauces. How to do these things and, equally important, why you need to do them. Tempering chocolate is not an option but a necessity.
Then, it is off to the actual recipes. And here there is a twist. The recipes are NOT organized by cakes, cookies, ice cream … No, the recipes are arranged by texture: velvety, moist, melt-in-the-mouth, crunchy, and creamy. When you think about it, isn't that one of the pleasures of chocolate? The snap of a hard slab, the stickiness of a caramel, the utter smoothness of a mousse.
The recipes here are sophisticated, even the brownies have a complicated set of ingredients: both white and brown sugar, both bittersweet chocolate and cocoa powder. There's a Chocolate Cream with Jelled Coffee that sounds a bit different — and the recipe itself surely is. The picture comes at the end of this post. Rich, succulent and decidedly beyond Jello pudding.
The Hazelnut Waves are a composed cookie: almond shortcrust pasty topped with hazelnut cream topped with milk chocolate ganache. Or a Walnut, Caramel and Coffee-Chocolate Tart that will pull the crowns off your teeth.
And you can drink your chocolate, too. There are lovely hot chocolate recipes but I'm fond of the Café con Coco: iced espresso shaken with a chilled cocoa made with bittersweet chocolate and cocoa powder. If you ever have to pull an all-nighter and need caffeine, this is your beverage.
If chocolate is your passion, if not your addiction, then Chocolate Master Class will make you a better human being. And surely a happier one.
I'll be posting a few of the recipes from the book in the coming days, including the ones mentioned here. My goal: entice you to buy the book, buy lots of good chocolate, and have a wonderful afternoon in your kitchen filled with pleasure and chocolate mess.