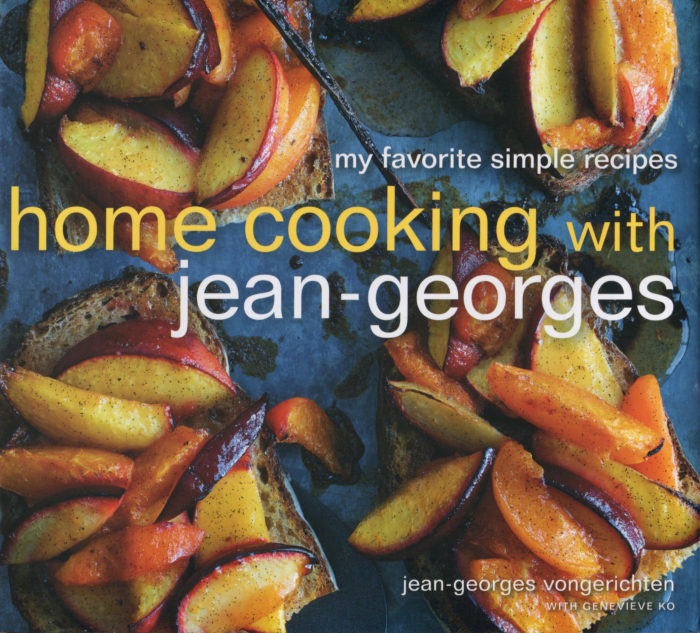 It's only Wednesday and this book is only six years old, so it's not quite a TBT experience, but we are close. Once you open this book up, you'll find it quite impossible to put down. The ideas for seafood, fruits and vegetables burst from the pages like shooting stars.
Jean-Georges Vongerichten is both famous and busy. Almost a dozen cookbooks, two dozen restaurants spread across the United States — 13 of them in New York City alone. His skills as chef and writer are simply world class.
Even culinary gods eat at home and his favorite home recipes happily dazzle in the pages of Home Cooking. There are familiar sounding recipes here, like Mac 'n' Cheese, but surely the recipe here is a tad elevated: heavy cream, half and half, whole milk, three kinds of Cheddar cheese, Monterey jack and some cream cheese too. It is quite impossible to image the taste. You simply have to try it.
The book's chapters present the usual suspects:
Cocktails and Appetizers
Salads
Lunch
Fish and Seafood
Poultry
Meat
Side Dishes
Desserts
Brunch
Basics
These "home cooking" recipes will have you pausing, pondering, and surely cooking. Consider these ideas:
Shrimp with a Peach Cocktail Sauce made with horseradish and maple syrup

Watermelon and Blue Cheese Salad

Open-Faced Carb Sandwich

Roasted Whole Sea Bass with Fennel, Meyer Lemons, and Cherry Tomatoes

Seared Scallops with Roasted Eggplants and Marinated Peppers

Shrimp Salad with Champagne Beurre Blanc

Grilled Chicken Salad with Apples and Roquefort

Lamb Chops with Smoke Chile Glaze and Warm Fava Beans

Fresh Corn Pudding Cake

Apricot Frangipane Tart
There is a certain European flair to the recipes, like that frangipane tart, combined with American ingredients, like the corn pudding cake. Although Jean-Georges has armies of people in his restaurants working 7 X 24, the recipes here are fine for you and me. A dozen ingredients at most. Three or four or five paragraphs of carefully articulated recipes.
The recipes sound wonderful, the ones with photos look wonderful, but no recipe seems to be formidable. Everything is doable and delicious.
The best recipes are, I believe, the seafood ideas. That Roasted Whole Sea Bass is something we have made and were left smiling from first bite to last. Take a look!
Many "famous chef" books end up sitting on your coffee table or a high self. They are pretty but often too complicated for us to us. Home Cooking can sit on your counter top and bring you weekly pleasure.