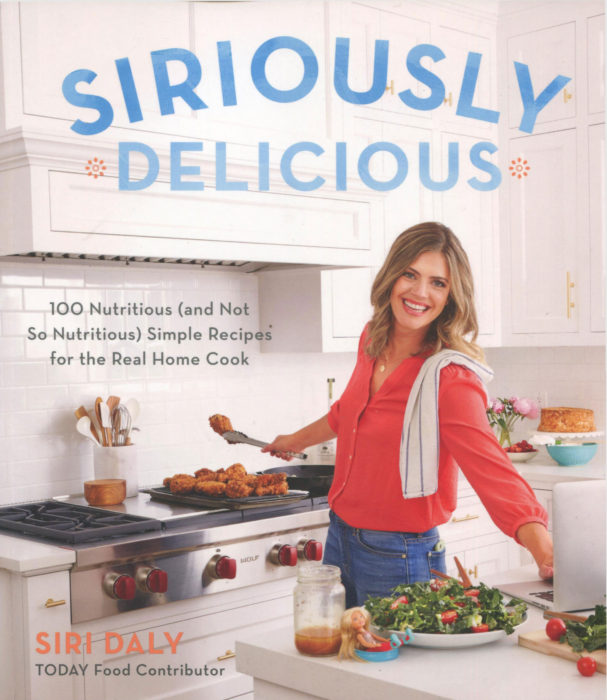 This is the first cookbook by Siri Daly and this mother of three young children describes it as her fourth baby. Quite simply, this is just the sort of lovely cookbook we all look for. Interesting recipes designed for even basic skill level, superior food photography to entice you, and a sense that this is comfort food elevated with just touch of elegance.
It's a book that you'll want to leaf through and then cook through. Siri loves to entertain and many of the recipes here will make you think "tapas:"
Crab and Corn Chowder

Greek Nachos

Spinach Balls

Buffalo Chicken Meatballs
The subtitle of this book is "100 Nutritious (and Not So Nutritious) Simple Recipes for the Real Home Cook." It's that buried phrase, Not So Nutritious, that caught my eye. Golly, imagine someone telling you she's making the priority satisfaction over "nutritious purity." Frankly, I'm a bit tired of books filled with healthy recipes and only healthy recipes. Too much tofu, too little charm. Siri's attitude is a godsend.
Take that Crab and Corn Chowder. It's made with bacon and heavy cream. No skim milk here, just heavy cream. And you know why? Because those ingredients make a dish taste better and better tasting food is a top goal for Siri. She's met the goal in this lovely portfolio of 100 recipes.
The food photography here is bright and brilliant. There are shots of the Italian Wedding Soup and a Mexican Pork Soup that will remind you of Dutch still life paintings. Sumptuous pictures of sumptuous food. Irresistible.
Siri writes a prominent blog, seriouslydelicious.blogspot.com and about 20% of the recipes here first appeared on the blog. She had help from professional recipe developers and of course all the recipes have been tested. Some of them tested by her Mom, a Minnesota source of quality.
Siri has written a book to cover your entire day. She's fond of hash, so her breakfast ideas will capture your attention, like Chorizo Hash Breakfast Burritos and Veggie Hash with Crispy Eggs. While I do enjoy breakfast, it is dessert that I'll be testing first. Siri has a Homemade Snickers Bar that she laughs about, "It's good," she told me in an interview. "Try it." I will take Siri seriously here. I will try it and the hashes, too and of course her favorite recipe in the book, those Greek Nachos. "If you only make one thing, do the nachos" she told me. Well, it'll be my second thing. Who can resist Snickers?
If you are a beginning cook, if you have few or zero cookbooks, then Siriously Delicious will jumpstart you with ease.