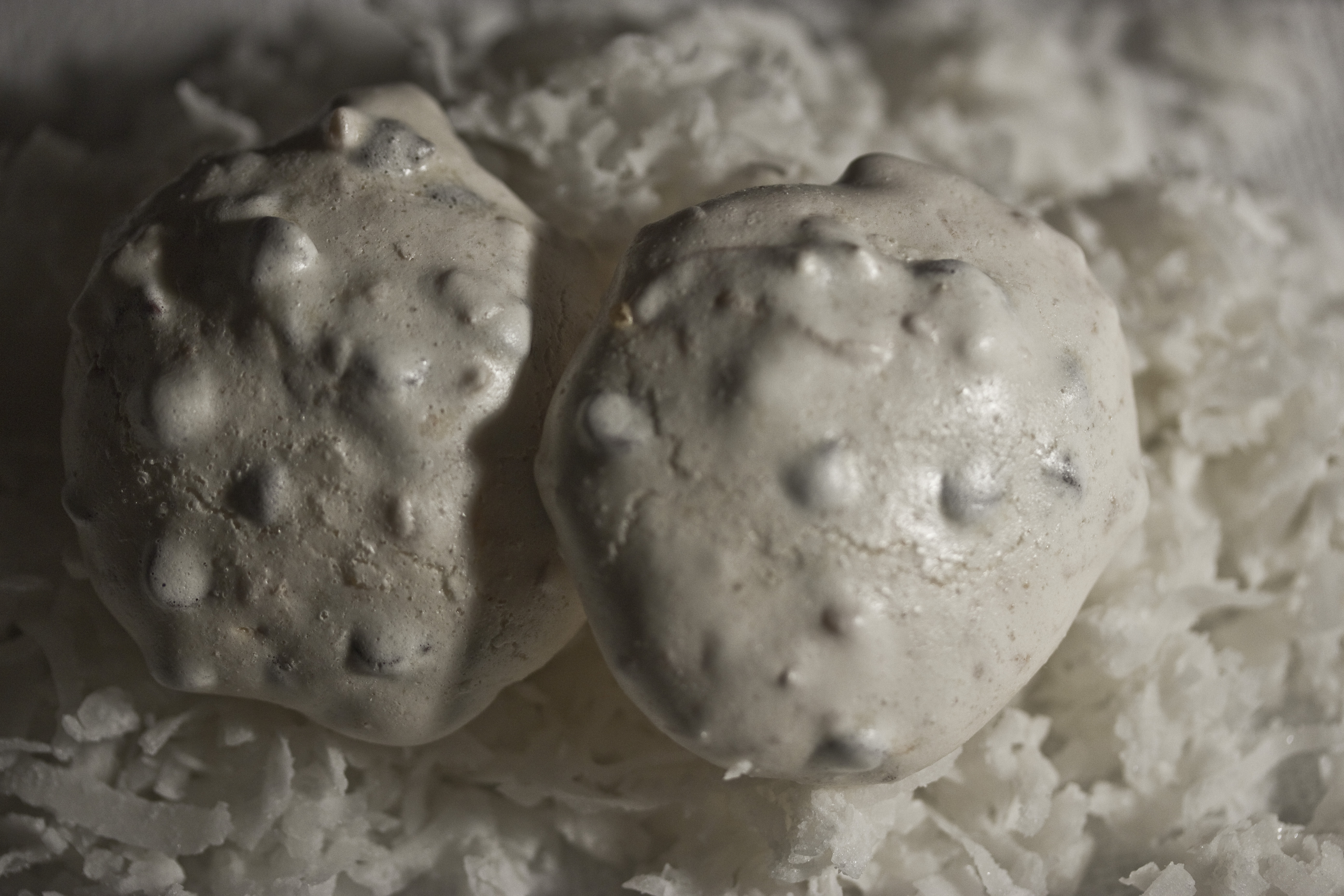 I have a new proof for the existence of God. It would take such superior designer to come up [and conceal] two very distinct but two very complex nut foods. Foods that are encased so deeply you cannot believe how people ever figured out to use them.
There is coconut, of course. And then there are the cacao pods which are transformed into chocolate only through a series of steps that impossible to have ever been devised. But thanks, perhaps to a gracious God, they were revealed. There are no chocolate atheists.
The combination of coconut and chocolate can be sublime. What better vehicle to transport those flavors to you than a perfect French meringue. I do mean perfect.
As soon as Suzen saw the title, Coconut Joys, she was onto this recipe. Surprisingly, I was entrusted with making them. And this only because in the brilliant new book Meringue by Linda Jackson and Jennifer Evans Gardner there is the technique for perfect meringues.
You'll want to use very, very fresh coconut flavor here. So, that half-used package of coconut from last spring that is sitting on your shelf? Use it for the photo. That's what I did.
Instead of using full-sized chocolate chips, the use of mini-chips here reinforces the daintiness of the cookies.
These are easy to make — 15 minutes. And long to bake — 3 ½ hours in your oven. It's a weekend treat. One you could use, say, to teach your children to be patient. [Or yourself.]
One thing about meringues. If it is raining out, don't even think about it. Humidity is the mortal enemy of meringue, so wait for sunshine.
Coconut Joys
Yield: about 40 small cookies
Ingredients:
4 large egg whites, room temperature
¼ teaspoon cream of tartar
½ cup superfine sugar
½ cup powdered sugar
½ teaspoon pure vanilla extract
¾ cup sweetened shredded coconut
1 cup mini semisweet chocolate chips
½ cup chopped almonds, optional
Preparation:
Preheat the oven to 200°F. [Yes, 200°F]
In the bowl of an electric stand mixer fitted with the whisk attachment, beat egg whites and cream of tartar, increasing speed to medium-high until soft peaks form. Add superfine sugar and then powdered sugar, about a tablespoon at a time. With a rubber spatula, very gently scrape down the sides of the mixing bowl because the powdered sugar is so lightweight it will fly up and stick to the sides of the bowl. Continue beating on high until peaks are stiff and glossy. Reduce to low and add vanilla, coconut, chocolate chips, and almonds; beat until combined.
Drop by well-rounded teaspoons onto baking sheets lined with parchment paper, about 1 inch apart. Bake for 90 minutes. Turn oven off and cool meringues in closed oven for 2 hours or until dry to the touch.
Cool completely before removing from baking sheets. Store in an airtight container.
Source: Meringue by Linda Jackson and Jennifer Evans Gardner