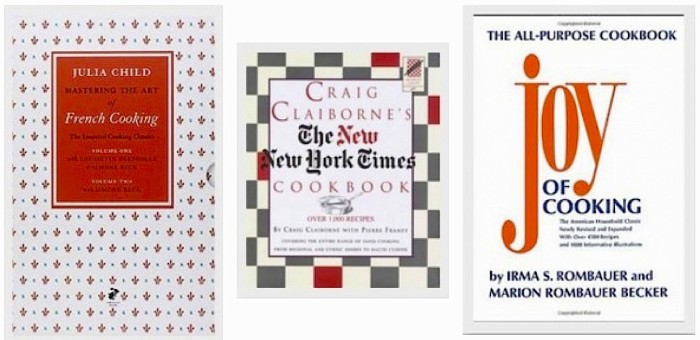 It's THROWBACK THURSDAY with THE CLASSICS: "Cooking with Julia, Craig, and Irma"
a new series and collaboration with De Gustibus Cooking School at Herald Square
February 26, March 5 and March 12, 2015;from 6:30 PM to 9:30 PM
On three different Thursday evenings, let's go back to basics with the classics. They're gone, but Julia, Craig and Irma's spirits live on in kitchens across the U.S.A. We'll show you why and how!
"Masteringthe Art of French Cooking"… delve into regional French bistro classics with Julia Child's foolproof recipes: Spinach Soufflé, Cabillaud Provencal, Ratatouille, Gratin Dauphinois, and Tarte Tatin with Chantilly Cream. February 26, 2015
"The New York Times Cookbook" … celebrate the culinary icon Craig Claiborne's favorites: Cream of Watercress Soup, Chicken in Papillote, Asparagus Gratin, Leek and Potato Puree, and Apple Strudel with Fig Ice Cream. March 5, 2015
"The Joy of Cooking" … focused on American go-to recipes by the ever-so-practical Irma Rombauer: Deviled Crabmeat and Wilted Lettuce with Warm Bacon Vinaigrette, Brunswick Stew served over Raffetto's Egg Noodles, and Pumpkin Chiffon Cake with Cream Cheese Glaze. March 12, 2015
Cooking continues to evolve as more ingredients become readily available. Julia, Craig and Irma would probably be shocked at what's going on today in the food world, but then again they might also be pleasantly surprised. What we know for sure is that they contributed a great deal.
Please join our CBTB team at De Gustibus Cooking School as we launch our new TBT cooking series collaboration. You will love the brand new state-of-the-art Miele kitchen as much as we do. So come learn basic techniques, and start building a solid foundation to great cooking today and tomorrow.
EVENT LOCATION:De Gustibus Cooking School
, Macy's Herald Square, 151 West 34th Street, 8th Floor, New York City
COST: $150 per person, per class
TO RESERVE: info@degustibusnyc.com |212-239-1652 |www.degustibusnyc.com