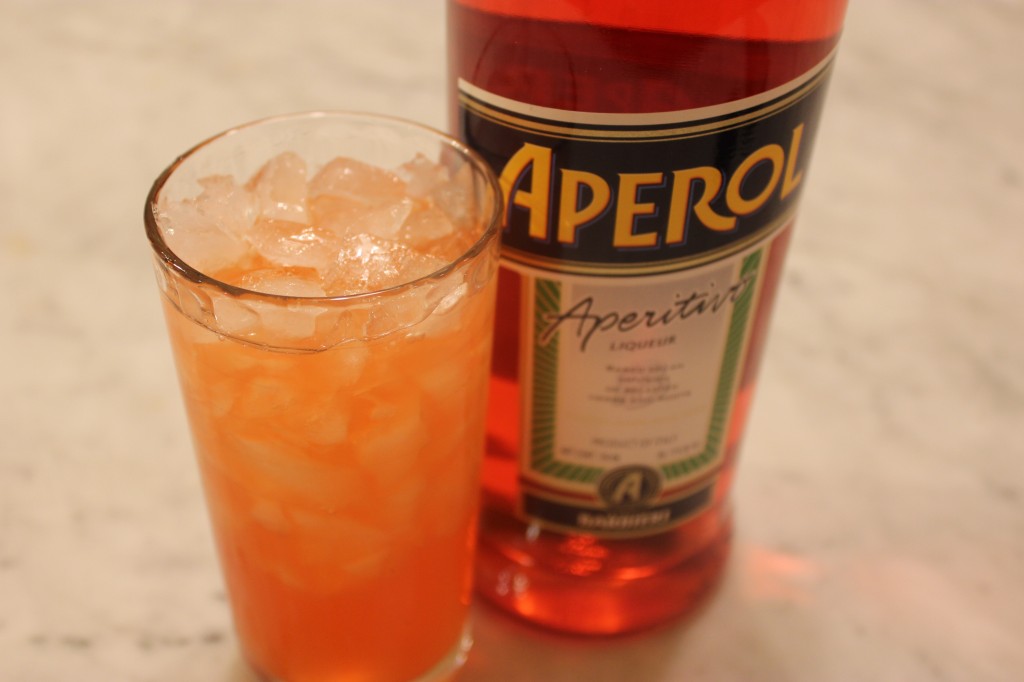 This weekend will find many of us giving or attending parties. Long parties. That Super Bowl stretches for four hours. During that time, we will all munch and we will all imbibe.
A responsible host knows that if guests are drinking over that extended period of time, there are some risks. It is quite possible that someone could get more than a little tipsy and you don't want them behind the wheel. What is a host or hostess to do?
First, you can arrange to not serve standard cocktails during the whole event. May one at the start, and then encourage people to lighter fare: wine, punch, lemonade, … There are many choices, not all of them alcoholic, and in fact the next few posts here will provide you with some liquid options that no one will complain about.
Here is the first option for you: a cocktail tingling in flavor but low in alcohol. It's made with my new favorite, Aperol, which just happens to be only 11% alcohol. Mixed with citrus juices and a little sugar syrup, you have a lively drink that people can sip, enjoy, and comingle with that food spread you have provided.
Aperol Sweet and Sour
Yield: 1 serving
Ingredients:
Shaved ice and ice cubes
2 ounces Aperol
1 ounce of simple sugar syrup
Juice of 1 lemon
Juice of 1 lime
Optionally, slices of lemon or lime for garnish
Preparation:
Fill a small cocktail glass with shaved ice. If you wish, the glass can be rimmed with sugar.
Put several ice cubes into a cocktail shaker. Add the Aperol, sugar syrup, and juices. Shake vigorously for at least 20 seconds. Pour into the cocktail glass and enjoy.
Source: Brian O'Rourke