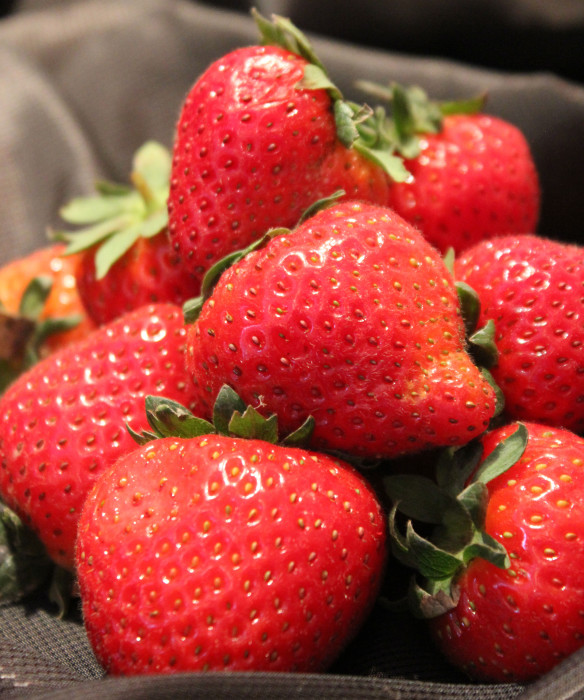 Strawberries are my favorite fruit. Many, many Americans could make that statement. Strawberries are grown and enjoyed worldwide — strawberry shortcake in Sweden, dipped in sugar and Metaxa in Greece or offered in strawberry tiramisu in Italy. But it is the United States that dominates growth and consumption: almost a third of the world's total crop is grown here in the United States. [Second highest? Turkey and they produce only a quarter of what we do. The United States is an "outlier."]
Wild strawberries were found worldwide from prehistoric times. There is no "country of origin" similar to other fruit stories, like the apple. But, it is true that the species F. virginiana was brought to Europe for Eastern North America in just the 1600s. The common strawberry that we now relish was the product of French farming based on that imported source. By the late 1700s, the strawberry was fully developed, beginning to be widely cultivated, and ready for us to enjoy.
While Americans have "perfected" the berry — in terms of production and consumption — I think the Italians make the best use of strawberries. They rank only 11th worldwide in production, but have you ever eaten those miniature berries grown near the Papal summer estate south of room? Or sipped the Italian strawberry liqueurs?
Often sampled with pepper or vinegar, Italians relish their strawberries. They do not do as the Americans do: pour on the sugar. Here is a recipe that lets you experiment with these Italian flavors and notes, not in something to eat, but something to drink. This is a mocktail, no alcohol. But the combination of syrup, vinegars, juices and just plain old strawberries is irrespirable and powerful. Drinking a little balsamic vinegar can give you quite the kick.
This recipe calls for some club soda, something I passed on when I tested this drink. It's your choice, of course, but I wanted to have full flavor assault. Undiluted. Unbridled. Unbelievable.
The recipe calls for Black Pepper Syrup. The recipe is in the post just before this one, or you can find it with the search box. The syrup is easily prepared and actually quite handy to have around.
Black & Copper
Yield: 1 cocktail
Ingredients:
4 strawberries, quartered, plus 1 halved berry for garnish
¾ ounce Black Pepper Syrup
¾ ounce freshly lemon juice
¼ ounce aged balsamic vinegar
Ice
1 ounce chilled club soda
Preparation:
In a cocktail shaker, muddle the 4 quartered strawberries with the Black Pepper Syrup. Add the lemon juice and vinegar, then fill the shaker with ice and shake well. Fine strain the drink into a chilled couple, stir in the club soda and garnish with the halved strawberry.
Source: Food & Wine Cocktails 2013
Photo Information: Canon T2i, EFS 60MM Macro Lens, F/5.6, 1/15th second, ISO-640