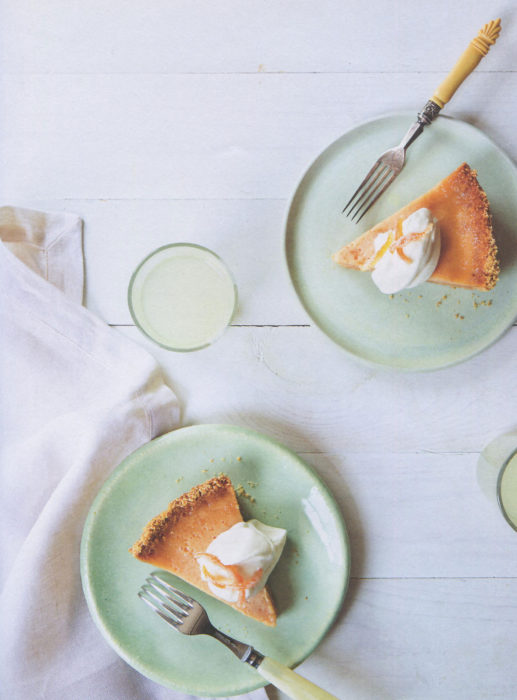 Here is a recipe from Sweet and Tart, a lovely "single theme" cookbook by Carly Snyder I reviewed earlier this year. I am thoroughly intrigued by this recipe for a Grapefruit Custard Pie with Saltine Cracker Crust. The original recipe is credited to Emily and Melissa Eisen of The Four & Twenty Blackbirds Pie Book.
We eat grapefruit, we drink the juice, but we rarely, too rarely, really cook with them. This seems the perfect chance to up your grapefruit game. My next grapefruit will be juiced, but the juice has its destiny in this pie.
Oh, you do need to sweeten the grapefruit juice and you could use sugar but the terrific idea here is to use honey. What a wonderful way to layer sweet and tart flavors. Perhaps that's one reason this book is called Sweet and Tart.
---
Grapefruit Custard Pie with Saltine Crust
Yield: serves 8
Ingredients:
35 unsalted saltine crackers
3 tablespoons sugar, plus 1 cup [200 g]
7 tablespoons [100 g] unsalted butter, melted
¼ cup [85 g] honey
2 tablespoons unbleached all-purpose flour
½ teaspoon kosher salt
3 large eggs, plus 1 egg yolk
1 cup [240 ml] fresh grapefruit juice
2 tablespoons Campari liqueur
¾ cup [180 ml] heavy cream
Dash of orange bitters (optional)
Preparation:
Position a rack in the lower third of the oven, and preheat the oven to 375°F [190°C].
Combine the saltines and 3 tablespoons of sugar in the bowl of a food processor and process until finely ground. Pour in 5 tablespoons [70 g] of the melted butter and pulse until the crumbs are evenly moistened.
Dump the crumbs into a 9-in [23-cm] glass pie plate and, using the bottom of a glass or measuring cup, press the crumbs on the bottom and all the way up the sides. Chill in the freezer for about 10 minutes. Bake for about 20 minutes, or until lightly golden. Let cool completely on a wire rack. Turn the oven temperature to 325°F [165°C].
Whisk the 1 cup [200 g] sugar, honey, flour, salt, remaining 2 tablespoons melted butter, eggs, and egg yolk in a large bowl until combined. Whisk in the grapefruit juice, Campari, cream, and bitters (if using). Strain through a fine-mesh strainer into the cooled shell.
Bake for 50 minutes, or until set but still wiggly in the center. Let cool completely on a wire rack. Store, covered, in the refrigerator for up to 2 days. Bring to room temperature before serving.
---
Source: Sweet and Tart by Carla Snyder and Nicole Franzen [Chronicle, 2015]