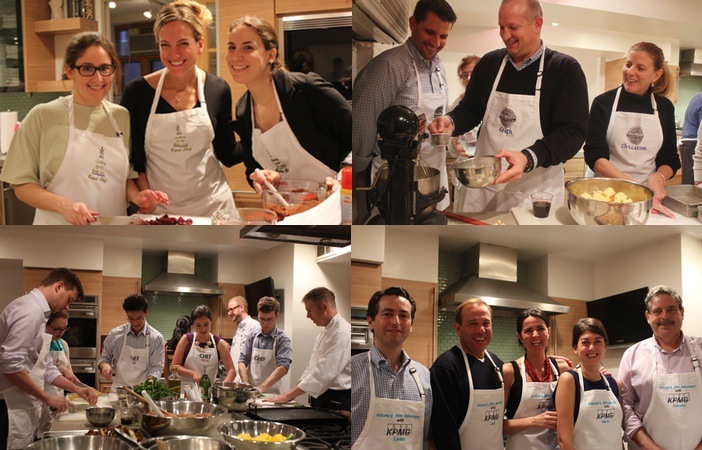 Culinary team building provides activities to identify team strengths and weaknesses, and then offers strategies for improving productivity and effectiveness. Your event may focus on advancing specific skills, such as team communications or resource allocation. We can provide culinary challenges to encourage risk taking. Or, your event may have a business purpose: strategy session, new project kick off, or reward for success. If you want a culinary team building event in NYC, then Cooking by the Book is your ideal destination.
Please use the menu at the left to explore our event types and event options. All of our events have the same basic flow. From Team Builder to Summer Lunch Break, we offer seven different programs to serve your needs. We have options and ideas to customize each of those programs for you. On other pages, you can review those options including our outstanding wine programs and even bringing Cooking by the Book to your own site. We offer you some suggestions about why every firm should employ team building to learn, to advance, and to succeed.
In 25 years, we have proven the kitchen is the perfect venue for team building. We can provide kitchen challenges to the group's creativity, communication, cooperation and time/resource management:
Does your team juggle multiple tasks? They will benefit from our Short Order Cook program.
Are deadlines a challenge for you? Our Divide and Conquer program is just their dish.
Is resource management an issue for you? Our Market Basket Challenge is all about quick, effective resource allocation.
If you desire, we can provide professional facilitators to lead your team building session. This support can extend both to days and before and after your event, first to pinpoint your needs, then to ensure your objectives are realized. Our loft space is the ideal location for an intimate offsite meeting.
Enable your teams to
Improve communication
Define team strengths and weaknesses
Improve flexibility
Enhance planning and organization skills
Encourage creativity
Boost morale