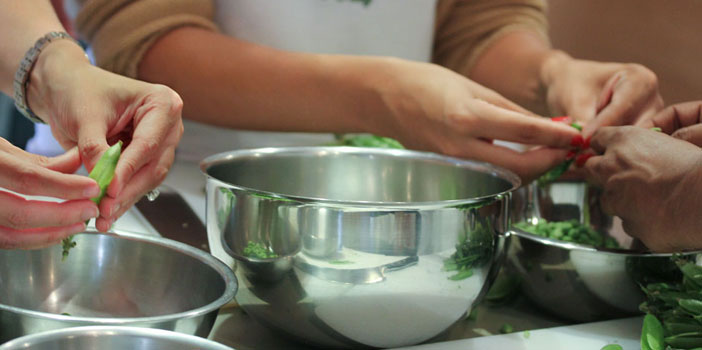 Your greatest assets are your teams. Their experience, ingenuity and flexibility are essential to your success.
Improving your teams is a continual process. Corporations realize they must invest time and resources in the race for team supremacy. Cooking by the Book is the pioneer in using culinary events to improve teams, dramatically. Your teams literally are your firm. Your greatest investment, your greatest potential lies in your teams. Team building programs can resolve issues that prevent your teams from achieving their full potential. For a successful team that is already bubbling, an event at Cooking by the Book is a sign of your appreciation and confidence in their contribution to your firm.
The kitchen is a familiar, yet powerful, environment for simulating real world challenges. It is the perfect venue for team building activities. Our premise is simple: use the kitchen as a safe learning environment. Small groups from your firm — executives, management teams, sales and marketing teams — work together in our kitchen to create a gourmet meal, then dine to enjoy each bite.
In our twenty-five years, we have developed, refined and perfected activities with one purpose: use the kitchen experience to accelerate teams. And, we do it with a distinctive style. Our events are fun, safe, challenging, and demonstrably rewarding.
Compared to conventional team building activities, ours are easier to employ, quicker to realize benefits, and cheaper to implement. People remember a Cooking by the Book event. Preparing a meal together is a bonding experience like no other. You will be pleasantly surprised and pleased at the impact on your teams.
We are devoted to making your event flawless. Perfection should be a goal for every team. We pledge to give your team an example of perfection when you join us. And we will do it with you in our loft kitchen environment, with all its energy and challenges. Perfection is never easy, but it is possible. Your hands-on cooking class here will show your team what excellence can be achieved. What they can achieve.
Teaming with Cooking by the Book is a major step towards your key goal: reaching success through the best teams you can build.