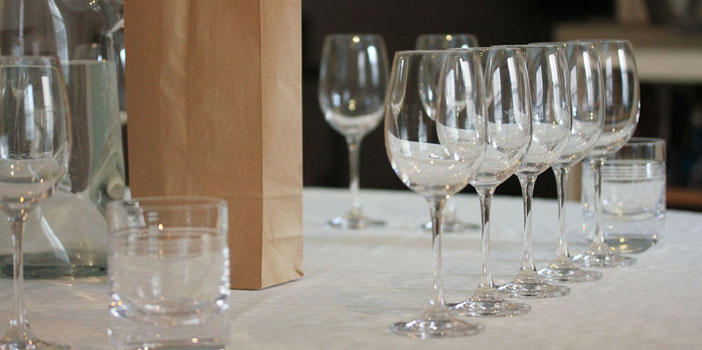 We offer three distinctive wine programs:
BLIND SIPS: A themed wine tasting, this event begins with an introduction of the wine game and rules.  Your guests then rotate from one table to another, sampling the covered bottles and evaluating the wines. After everyone has sampled every taste, the labels are revealed, opinions are given, and questions are answered.  If you desire, you can augment Blind Sips by having a customized Tapas meal served during the tasting time.  You will have your choice of wine themes for the eight wine selections:
Comparison of varietals of your choice
Price comparison (same varietals at high and low price points)
Old World versus New World
A selection of your favorites
FORMAL WINE TASTINGS: Our wine partner, Acker Merrall & Condit, is the oldest continuing wine store in New York City.  With vast experience based on thousands of wine tasting events, Acker Merral & Condit can create a delicious program for you that will both please your palette and deftly increase your wine knowledge.  Again, we can offer Tapas dishes during the wine tasting to demonstrate the proper matching of wine to foods.
WINE PAIRING: This is truly our most comprehensive wine experience.  Your team will spend an hour in the kitchen preparing a gourmet meal from our seasonal menu, and then dine on their creations with a paired wine for each course.  We will explain the wine selections and indicate why they amplify the dining experience.