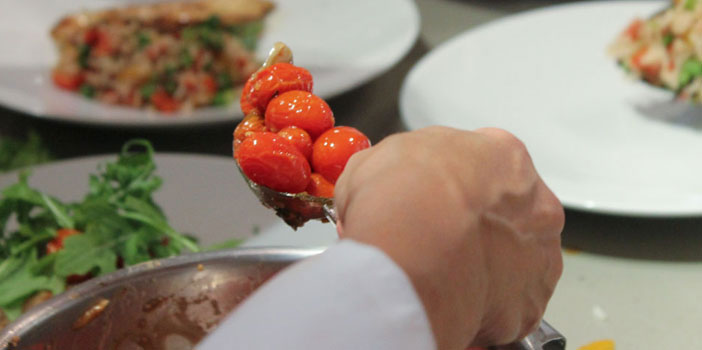 Dinner with Friends is a private dining experience perfect for a celebration, an anniversary or birthday, or just an evening of culinary fun. Our Dinner with Friends program is a three-hour hands-on event that lets you prepare and relish a memorable meal in our lovely Tribeca setting.
When you arrive at our comfortable New York City loft, you'll be greeted with wine and hors d'oeuvres. You will have about 20 minutes to mingle before you will be introduced to the chefs and reviews the event's menu. Your group coordinator will select a custom menu from our seasonal selections.
Before entering our kitchen, we give each guest a personalized chef's apron to keep as a souvenir. We divide your group into smaller teams that work directly with a three-course menu using premium quality ingredients. Our seasoned, professional chefs reveal useful techniques throughout the cooking experience, while answering your culinary questions and providing personal insights into the recipes. Our high chef-to-guest ratio ensures distinctive, personal attention.
The hands-on cooking segment lasts about 60 minutes, depending on your group size and your menu. During this time we take photographs, which we will post online along with the recipes after the event for your guests to view and enjoy.
Your event will include
Wine and Hors d 'Oeuvres Reception
Three-Course Meal with Seasonal Wines
Professional Cooking Instruction
Personalized Aprons
Recipes
Digital Photos