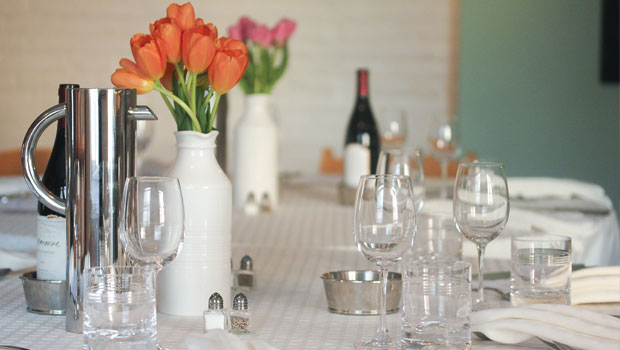 Our private parties and celebrations all have the same basic flow.
When you arrive, you'll be greeted in our dining area with appetizers and beverages. Wine is provided as part of some events and can always be added to yours.
If you've elected to receive personalized aprons, then each of your guests will receive a personalized chef's apron to keep as a souvenir. You'll be quickly introduced to your chefs and your menu. We will divide your whole group into smaller teams. Each team will work directly with their own personal chef to prepare one item from a three-course menu using premium local quality ingredients.
After those introductions, you'll enter our beautiful kitchen space for your fully  hands-on cooking segment, lasting about 60 minutes. During this time we take photographs which are posted online along with the recipes for your team to view and enjoy.
When your cooking activity ends, your group will retire to our charming dining area to enjoy your gourmet meal with selected beverages.
Our very high chef-to-team member ratio ensures distinctive and personal attention from our seasoned chefs. They reveal useful techniques throughout the cooking experience, answer your culinary questions, and provide personal insights into the recipes. Whether you are a culinary maven or a cooking novice, your dish is going to be terrific.