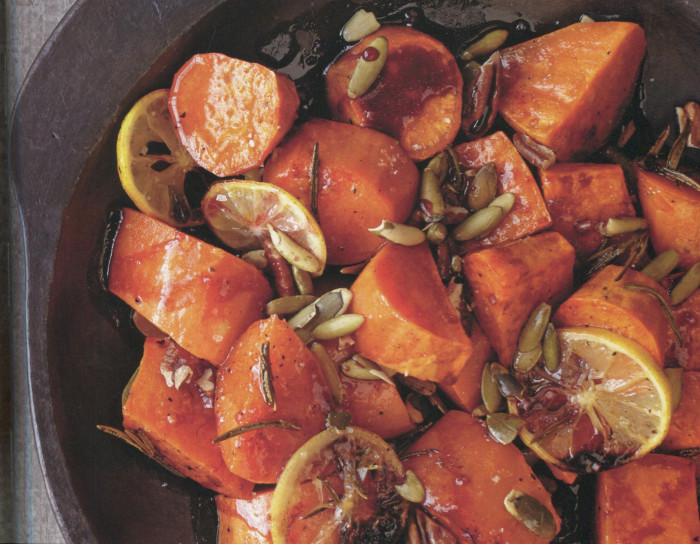 In My Perfect Pantry, Geoffrey Zakarian uses simple pantry elements to forge wonderful, full flavored dishes. He has a list of 50 pantry ingredients that he employs in appetizers, side dishes, main courses and desserts. Here the simple ingredient is the pecans. It's an addition that cooperates with pomegranate, ginger and pumpkin seeds.
This is, surely, a fall dish with elegance. It might appear on your holiday dinner table, but why wait until November or December. Enjoy this dish now, fall in love, and sample it again when the weather is even colder and you want something warm, comfy and just a tad complex.
I've read this recipe multiple times and, into my delirious head, the word "pineapple" pops. When you roast the sweet potatoes, drizzling with some pineapple juice might be an excellent addition to the olive oil. Or, when making the syrup, you could replace the can of ginger ale with pineapple juice to introduce this sweeter tone.
What's the right thing to do? Experiment. Suzie and I are.
---
Pomegranate-Ginger Sweet Potatoes with Pecans and Pumpkin Seeds

Yield: serves 6

Ingredients:

For the syrup:

2 cups pomegranate juice
1 12-ounce can ginger ale
¼ teaspoon ground ginger
1 tablespoon unsalted butter Kosher salt
For the sweet potatoes:

3 sweet potatoes, peeled and cut into 1-inch chunks (about 2 ¼ pounds)
4 sprigs fresh rosemary
½ lemon, thinly sliced
3 tablespoons extra-virgin olive oil
Kosher salt
¼ cup coarsely chopped pecans, toasted
¼ cup pumpkin seeds, toasted
Preparation:

Preheat the oven to 400°F. To make the syrup: In a medium saucepan, combine the pomegranate juice, ginger ale, and ginger. Bring to a boil and simmer rapidly until reduced to ⅓ to ½ cup. The mixture should be syrupy and coat the back of a spoon. Whisk in the butter, season with salt, and keep warm.
To make the sweet potatoes, toss the sweet potatoes with the rosemary, lemon slices, and oil on a rimmed sheet pan. Season with salt. Roast until the sweet potatoes are tender, tossing once or twice, 30 to 40 minutes. Toss with the pecans and pumpkins seeds and roast 5 minutes more. Mound the sweet potatoes on a platter and drizzle with the syrup, making sure you hit all of the potatoes.
Source: My Perfect Pantry by Geoffrey Zakarian [Clarkson Potter, 2014]

Photography Credit: Sara Remington