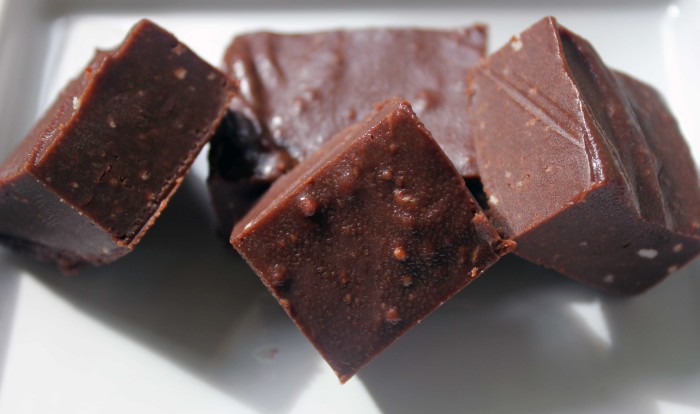 We think we live in a world of change, that nothing is constant or steady. But that's not true at all. For example, the first fudge was made in Baltimore in 1886 and sold for 40 cents a pound. Fudge still tastes about the same and 40 cents in 1886 translates, inflation-wise, to about $10 a pound. That's pretty much what fudge costs in stores or online.
The early fudge production was for fund raising at women's colleges. In the late 19th century, the summer vacation spot of Mackinac Island in Michigan sported some fudge establishments. That began a tradition of fudge making that, along with taffy, defines summer sweetness, typically where water is found, either sea, stream, or lake.
We often leave it to the pros to make fudge. There are books and recipes galore. And failures are in abundance. I had, and still search, for a recipe that does not require a candy thermometer. Oh, I've found similar recipes but not one with the quality I like. I find getting to true soft-ball stage at 234° is about as easy as getting to Mars.
When I make fudge now, which is rare, I have a pair of high hurdles to clear: my taste preferences and Suzen's.
I put a small plate with a couple of pieces in front of her.
"Is there more of this?" she asked. I had passed the visual texture test she always performs.
She took a bite. Then looked at me. "There had better be more, and I want some." Success.
And success here comes from a most unusual location. Not Baltimore. Not Michigan. But London and not from a London candy shop [they rapidly adopted the treat themselves, making them in seaside towns, just like in the US]. This comes from the kitchen and imagination of Erik Lanlard. Eric is French by birth and lives in London producing wonderful treats and a series of outstanding cookbooks, like Chocolat.
Growing up in France, Eric never experienced fudge. His first bites were addictive. Eric took an extreme and scientific approach: recreate the fudge but do it with much less technical craziness. I've had Chocolat since it came out last year and I had flagged this recipe in my "to do" list. I just, just hesitated a bit. The ingredients and the proportions are just way different from the "classical" recipe. Here is the ingredients list from Alton Brown, for example, for a similar sized pan:
2 ¾ cups sugar
4 ounces unsweetened chocolate
3 tablespoons butter
1 cup half-and-half
1 tablespoon corn syrup
1 tablespoon vanilla
1 cup nuts, optional
In Eric's recipe below, there is much more chocolate, no corn syrup or vanilla, and the smaller amount of sugar is confectioners', not granulated. Sweeping differences. My hesitancy is understandable to be sure. Change one thing a bit, sure. Change and jumble everything around? It's fudge, for pete's sake, and candy failures are as common as rain drop in the Amazon.
How does it taste? It's superb in flavor and texture. On my first try here I was not quite diligent enough in mixing in that confectioner's sugar, which can literally be a bit flakey. You see some spots in the picture above. But the recipe works. No thermometer. No timer. It's easy and quick and good. I plan on additional batches with some experimenting: some rum, vanilla, nuts …
Oh, yes, of course, out of that big pan I'll save my wife a piece or two. I'm not totally selfish.
---
Chocolate Fudge from Eric Lanlard

Yield: 36 squares

Ingredients:

13 ounces semisweet chocolate, coarsely chopped
1 14-ounce can sweetened condensed milk
2 tablespoons unsalted butter, plus extra for greasing
¾ cup confectioners' sugar
Preparation:

Lightlygreasea7'/2-inch-squareshallowbakingpan.
Put the chocolate, condensed milk, and butter into a small sauce pan and melt gently over low heat, stirring occasionally, until smooth and silky. Sift in the confectioners' sugar and mix thoroughly.
Press the mixture into the prepared pan and smooth over the top with the back of a spoon. Cover with plastic wrap and let set in the refrigerator for 1 hour.
Turn out the fudge onto a cutting board and cut into 36 squares. Store in an airtight container in a cool, dry place for up to 1 week.
Source: Chocolat by Eric Lanlard

Photo Information Canon T2i, EFS60 mm Macro Lens, F/ 5 for 1/60th second at ISO‑160