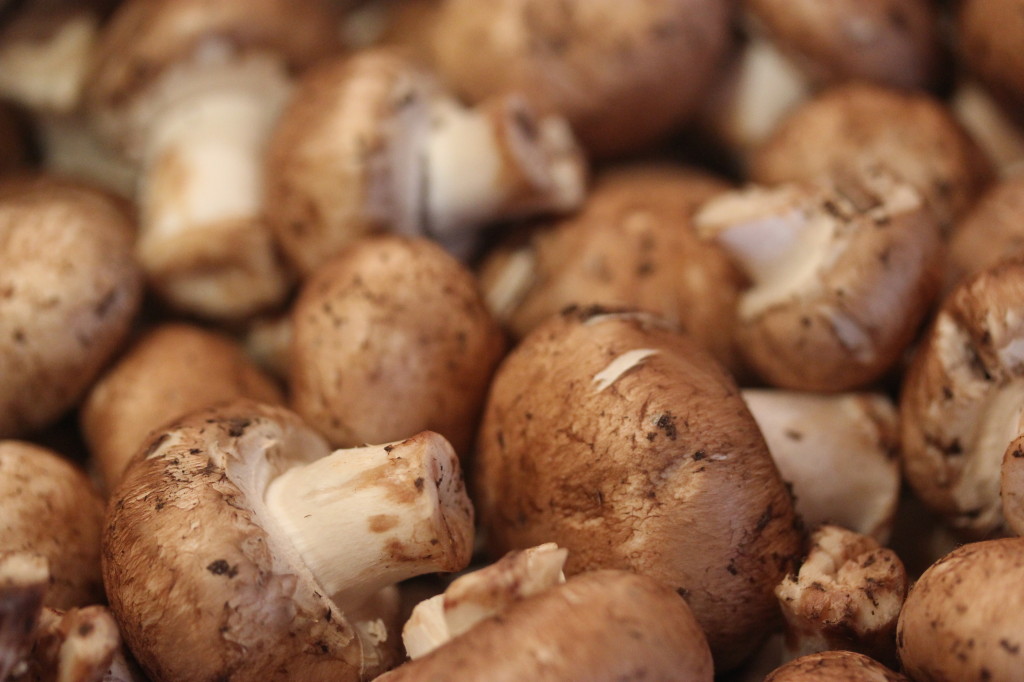 The great American sports event, the Super Bowl, is just two weeks away. And this Sunday, there are two games to decide who shows up in that Super Bowl.
So, millions of you will be there on Sunday, watching, drinking and eating. Why don't we all do this in a dignified way? I know, you want finger food that is hot, gooey, and delicious. Okay, how about an upscale wings recipe. Very upscale.
That picture of mushrooms, wonderful mushrooms, is there for a purpose. Most wings are dripping in red chili goop. These wings are served with elegance thanks to a red wine and mushroom sauce. You might even forgo the paper towels and use real napkins.
Don't worry, that wine and mushroom sauce has been reduced down until the wings are finger-licking sticky. And, tradition holds. One of the ingredients here is red pepper flakes, so there is still some heat, and of course you can adjust that level
Best of all, you can make these wings a day ahead, then reheat before either game. The sauce is supposed to reduce dramatically so that the wings are literally glazed in delicious flavor.
Oh, as for mushrooms, just wait until the Ravens destroy the Patriots [sorry, I am a very embarrassed New York Jets fan].
Braised Wings with Red Wine and Mushroom Sauce
Yield: serves 4 as an entrée or 6-12 as an appetizer
Ingredients:
24 chicken wings
3 tablespoons unsalted butter
2 small yellow onions, chopped
4 cloves garlic, minced
4 cups chopped brown button mushrooms
2 cups red wine
2 cups chicken broth
4 teaspoons tomato paste
1 teaspoon sugar
2 tablespoons chopped fresh thyme or oregano leaves
2 teaspoons crush red chile flakes
1 teaspoon salt
Preparation:
Cut off the wing tips and save them for making stock.
Cut the wings in half though the joint. Place a deep 12-inch pan over medium-low heat. Add the butter and the onions. Cook until the onions brown, about 12 minutes. Add the garlic and mushrooms to the pan. Cook until the mushrooms wilt, about 6 minutes
Meanwhile, in a large bowl, combine all the remaining ingredients [except the wings!]. Pour into the pan and bring to a low boil. Now, add the wings. Bring the liquid to a low boil, cover, turn the heat to low, and simmer until the chicken wings become very tender, about 30 minutes. Stir occasionally. This can be done 24 hours prior to serving.
To serve, bring the wings and sauce to a low oil. Cook until nearly all the sauce evaporates and forms a glaze around the wings. Serve. Can be reheated and served the next day.
Source: The Great Wings Book by Hugh Carpenter and Teri Sandison