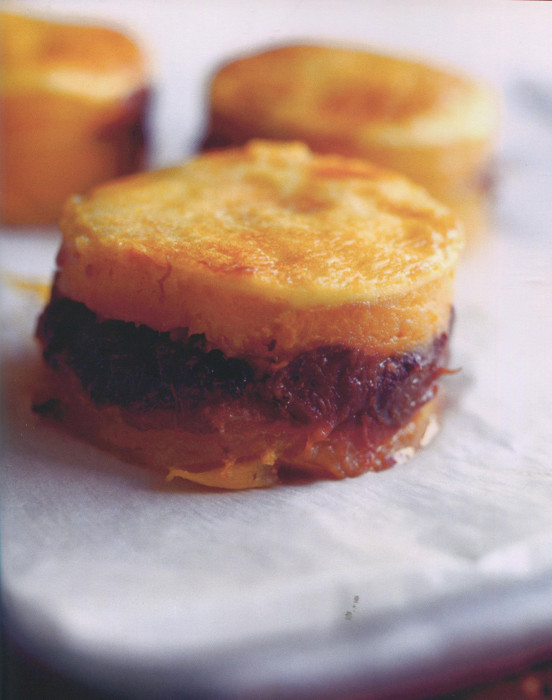 For our holiday tables, we often resort to "the same things." Now, those things are terrific which explains why we may have had them dozens of times. Still, there may be a longing to augment the table, a desire for something more, something different.
No, I would never suggest the stuffing or mashed potatoes should not appear. Let them stay but let this dish enjoy prominence on your table, too.
When you hear "gratin" you think of potatoes and milk and cream and cheese. Something rich, heavy and a bit indulgent. Here, the gratin uses the lightness of squash and the filling is a layer of prunes, not that mass of melted diary. It's a different idea but one that can add something remarkable to your table.
Oh, please don't worry. There is little sacrifice here. You still have heavy cream, crème fraiche, and egg yolks. It's still indulgent.
---
Butternut Squash and Prune Gratin

Yield: serves 4

Ingredients:

1 pound butternut squash, peeled, halved lengthwise, seeds removed and cut in to ¼‑inch slices
Kosher salt
White pepper in a mill
½ cup prunes, cut into medium dice
1 cup heavy cream
¾ cup chicken stock
½ cup crème fraiche
2 egg yolks
Preparation:

PREHEAT the oven to 350°F. Use a pastry brush to butter an 8-inch by 8-inch baking dish.
PUT the squash slices in a large bowl, season with salt and 6 grinds of pepper, or to taste, and gently toss. Arrange half the squash slices in the bottom of the baking dish and season. Top with the prunes, in a single layer, then cover with the remaining squash.
PUT the cream and stock in a bowl and whisk them together. Season with salt and pepper. Pour the mixture over the gratin, gently shake the dish to help the cream seep down to the bottom, and gently press down on the squash slices to settle them evenly. Cover the gratin loosely with foil and poke a few holes in the foil with the tines of a fork. Bake for 55 minutes, or until tender when tested with the tip of a knife. Remove from the oven and let cool slightly.
WHILE the gratin is still warm, put the crème fraiche in a bowl, add the yolks, and whisk vigorously until well incorporated. Season with salt and 4 grinds of pepper, or to taste, and spread over the gratin evenly. Bake, uncovered, until golden-brown, approximately 15 minutes. Remove from the oven and let rest for 10 to 15 minutes before serving (it's a little wet and loose when right out of the oven).
CUT rounds with a 3 ½-inch cookie cutter (as shown) or spoon out onto plates.
---
Source: Artisanal Cooking by Terrance Brennan [John Wiley & Sons, 2005]