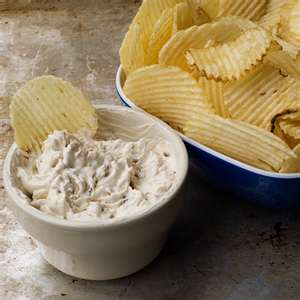 When I die, and if I get to the pearly gates with Heaven just on the other side, it's going to be difficult should they start asking me questions. Supposedly there is a complete record of everything you do in your life, so telling another lie at that point is probably a mistake. A step on the path to the big escalator, the one marked "DOWN."
Have you ever made onion dip with packaged onion soup mix? Well, I have. I would admit that I seem to recall that I have. More than once? Yes, I would slowly answer. But if they probe and ask how many times, I would have to tradeoff between being humiliated in front of angels and risking that escalator ride to the place that has no air conditioning.
This dip is "green" using fresh onions, not the boxed stuff. You'll get your onion flavor here but it's now the just the honest flavor of fresh onions. No preservative chemicals here. There is some tang from balsamic vinegar plus cream cheese in addition to the usual sour cream. Feel free to adjust the amount of vinegar, salt or pepper. You could add lemon or lime juice, too.
This is the classic dip for potato chips, of course. But pita chips and vegetables spears benefit from the glory of its richness.
Caramelized Onion Dip
Yield: 2 cups, enough for 8 [but I wouldn't count on it]
Ingredients:
2 tablespoons extra virgin olive oil
2 large onions, quartered lengthwise and thinly sliced
1 teaspoon balsamic vinegar
½ teaspoon salt
¼ teaspoon freshly ground black pepper
1 cup sour cream
4 ounces cream cheese, at room temperatures
Preparation:
ln a large heavy skillet, warm the olive oil over medium-low heat. Stir in the onions, balsamic vinegar, salt, and pepper. Cover the skillet and cook for 5 minutes. Uncover, raise the heat to medium, and continue to cook, stirring occasionally, until the onions are soft and golden brown, 35 to 40 minutes. Remove from the heat and let cool.
In a medium bowl, combine the sour cream and cream cheese. Beat until smooth and well blended. Stir in the browned onions with all their oil and juices.
Transfer to a serving bowl, cover, and refrigerate for at least 4 hours or up to 2 days. Before serving, stir again and let stand at room temperature for 15 minutes.
Source: Great Party Dips by Peggy Fallon