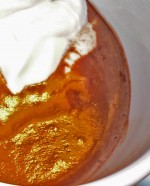 As the sun set, I looked at Suzen. "Walk more?" I asked. I got the answer I hoped for.
"Good God, no. Back to the room." She shivered in the cold. We were exploring Lake Placid last week, expecting to find mountains of snow. Like most of the Northeast, the weather had been warm and there was very little snow. Until our afternoon arrival.
A frigid front came down as we drove up. With the wind, the chill factor was over -20⁰F, that's below zero.
"Thank God it doesn't get this cold in New York City," I said.
"Oh, yeah," Suzen said reassuringly.
We are back in New York City. The chill factor is a balmy 14⁰F. That's a 34⁰ shift but I'll tell you: it's just plain cold.
On a day like this, you need reinforcement. I know that picture above might seem distorted, but the fact is this recipe gives you the thickest, strongest hot chocolate I've ever tasted. It's part beverage, part mousse. I added some whipped cream, of course, on top just to mellow the very deep and intense flavor.
This recipe is from Hot Chocolate by Fred Thompson. It's a wonderful book, filled with recipes from around the world. You'll find a recipe for just about every climate and weather condition. If you have to think about the day's chill factor, then this Espresso idea is as good as any coat you possess. [As long as you stay indoors!]
Espresso Hot Chocolate
Yield: serves 4
Ingredients:
½ cup heavy cram
½ cup whole milk
3 ounces bittersweet chocolate, at least 70% cocoa, chopped
Preparation:
Bring the cream and milk to a simmer in a small heavy saucepan over medium-high heat. Remove from the heat and quickly add the chocolate, stirring until melted and very smooth. Return to medium-low heat and warm until a bubble or two forms on the surface, about 3 minutes.
Pour the hot chocolate into 4 demitasse cups and serve immediately.
Source: Hot Chocolate by Fred Thompson