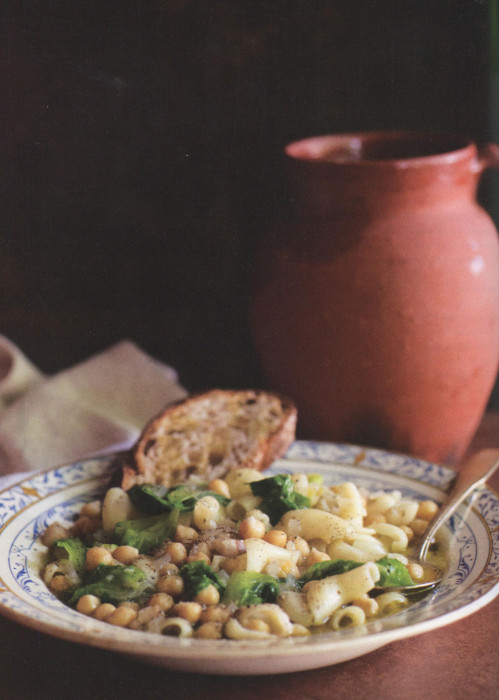 Last August I did a cookbook review for The Four Seasons of Pasta, a collection of recipes offering pasta on an elevated level. When it comes to winter, authors Nancy Harmon and Sara Jenkins remark: "Of all the seasons, winter is the hardest to love."
Here is reason to love winter after all. This is a hearty dish, perfect for a cold winter night. You can substitute bacon for the pancetta, or omit the pancetta and go vegetarian. But be sure to use chickpeas for the very authentic "rural" blend of beans and pasta.
Oh, if you cannot find escarole, or don't like it, another green like broccoli rabe is find. You want the "green" and "bitter."
This can be a standard pasta dish or more "soupy" as you will see in the directions below. In the country, cooks serve this with a slice of country-style bread rubbed with a cut garlic clove and then dribbled with olive oil. You can also mix some tomato paste, one tablespoon, in a ¼ cup of boiling water and stir it into the chickpeas before the pasta and escarole are added.
---
Pasta with Chickpeas, Pancetta, Garlic, and Escarole
Yield: serves 6
Ingredients:
2 ounces diced pancetta, guanciale, or bacon [about ⅓ cup]
1 tablespoon extra-virgin olive oil, plus more for garnish
½ cup dried chickpeas, soaked overnight in plenty of water
1 small yellow onion, very coarsely chopped
1 garlic clove, crushed with the flat blade of a knife
1 bay leaf
1 fresh rosemary sprig
Sea salt and freshly ground black pepper
½ pound pasta (see headnote)
¾ to 1 pound escarole or spicy greens, rinsed and sliced into 1-inch ribbons
Freshly grated Parmigiano-Reggiano
Preparation:
Bring a teakettle of water to a boil. Combine the pancetta and olive oil in a saucepan large enough to hold the legumes. Set over medium heat and cook, stirring, until the pancetta has given up a lot of fat and started to brown.
Drain the chickpeas and add to the pancetta, along with the onion, garlic, bay leaf, and rosemary. Cover with boiling water to a depth of 1 inch. Set on the stove over medium heat. When the liquid is simmering once more, turn the heat down to low, cover the pan, and cook until tender, 1 to 2 hours, depending on the age of the legumes.
Check the pan from time to time, adding more water if necessary; otherwise, just let the chickpeas cook and soften.
When the chickpeas are done and most of the cooking water has been absorbed, add salt to taste and plenty of pepper.
Remove and discard the bay leaf and rosemary.
Bring a large pot of water to a rolling boil. Add a big spoonful of salt, then the pasta and escarole together. Cook until the pasta is al dente, 8 to 12 minutes, or even a bit longer. Using a slotted spoon, scoop out the pasta and escarole and transfer directly to the chickpeas. Now it's time for you to judge—if you want a soup, add more of the pasta-escarole cooking water to the pan. If you want a dish to eat with a fork, let the spoonsful of pasta and escarole drip thoroughly before adding them to the chickpeas. Whatever you do, however, there should be a lot of moisture in the mixture all the end.
Serve in warmed deep soup plates. Garnish each plate with a good dribble of olive oil and pass parmigiano to top the dish.
---
Source: The Four Season of Pasta by Nancy Harmon Jenkins and Sara Jenkins [Penguin, 2015]