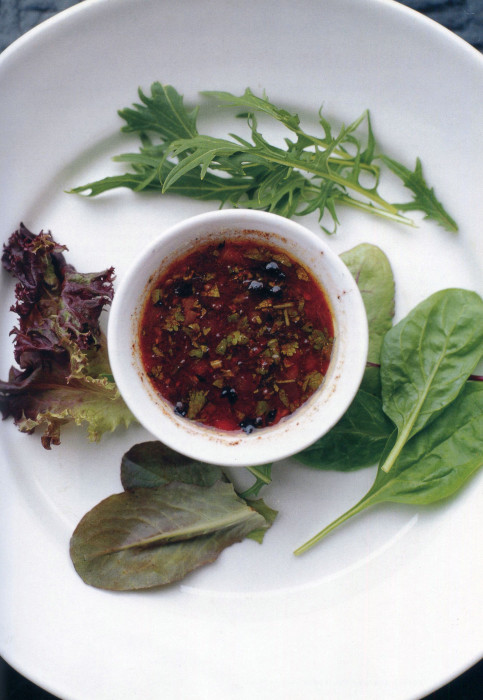 I love my wife and I never get bored with her.
Yes, I know, I have to say that, but I mean it.
However, I do at time tire of her salad dressing. She has the world's best vinaigrette. I'm willing to compromise. One woman but can I please, please have some changeup on my salad. This weekend we are making this Roberto Santibanez wonder: a salad dressing of charred onion and garlic, with cilantro and pomegranate juice and chile and anise. There is still the ubiquitous olive oil, but no vinegar. I think I'm going to be very happy. With Suzi and with the salad.
---
Pomegranate and Red Onion Dressing

Yield: 1 cup, six servings

Ingredients:

1 small red onion (about 4 ounces), cut into ½-inch slices
4 large garlic cloves, peeled
¼ cup lightly packed chopped fresh cilantro
¼ cup pomegranate juice
¼ cup freshly squeezed lime juice
1 serrano chile, finely chopped
¾ teaspoon anise seeds, crushed to a powder in a mortar
1 ½ teaspoons sugar
¼ teaspoon freshly ground black pepper
¼ cup olive oil Salt
Preparation:

Put the onion slices and garlic in a heavy skillet large enough to hold them in a single layer, set over medium heat, and cook, turning once, until charred and blackened in spots, about 12 minutes. Remove the garlic from the pan if it starts to char before the onions are done.
Finely chop the onions and garlic. Scrape them into a mixing bowl and add the cilantro, pomegranate juice, lime juice, chile, anise seeds, sugar, and pepper. Whisk until the sugar is dissolved. Slowly whisk in the olive oil. Add salt to taste. The dressing can be made in advance and kept at room temperature for up to 1 hour or refrigerated for up to 2 days. Whisk well and check for seasoning before serving.
---
Source: Rosa's New Mexican Table by Roberto Santibanez