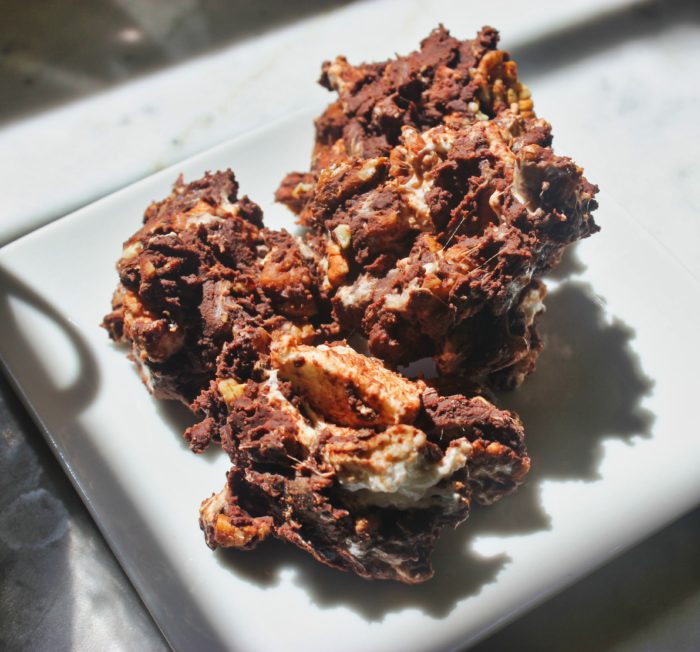 You don't see a lot of candy recipes on this blog. Suzi is not a fan of candy, but I still married her. I have Type 2 diabetes, so I have to be careful. But, you see, I happened to be in our upstate house by myself and I was cleaning up the pantry for my lovely and hard-working wife and I noticed that one container of chocolate chips was too full and I didn't want that problem to be around when Suzi came up for the weekend, so I …
I sinned.
But it's a good sin. No cooking or using thermometers here. You just melt chocolate, add nuts and marshmallows, stir to mix, cool to set up and eat. If you remember "rocky road something" from your days as a kid, this will bring back fond memories. [I almost wrote fondant memories but I do have my limits.] If rocky road has not entered your culinary life yet, it should and this is a lovely way to start!
I'm posting this on Sunday morning. Maybe you and the kids can get gooey together this afternoon?
---
Rocky Road Clusters
Yield: about 24 good-sized clusters
Ingredients:
2 cups walnut halves (8 ounces), or pecans!
2 cups bittersweet chocolate chips (10 ounces)
1 cup butterscotch chips (5 ounces), or milk chocolate chips!
2 tablespoons unsalted butter
1 teaspoon pure vanilla extract
2 cups mini marshmallows (4 ounces)
Flaky sea salt, such as Maldon, for sprinkling
Preparation:
Preheat the oven to 350°F.
Spread the walnuts on a large rimmed baking sheet. Toast in the oven for 8 to 10 minutes, until browned and fragrant. Let cool completely, then coarsely chop. Line the baking sheet with parchment paper.
In a large microwave-safe bowl, combine the chocolate and butterscotch chips and the butter. Microwave on full power in 20-second intervals until almost melted; stir between intervals. Add the vanilla and let stand for 2 minutes, then whisk until smooth. Let cool slightly, then fold in the walnuts and marshmallows.
Scoop 2-tablespoon mounds of the dough onto the prepared baking sheet and sprinkle with flaky sea salt. Refrigerate the Rocky Road clusters until firm, about 30 minutes.
DO IT AHEAD: The Rocky Road clusters can be stored in an airtight container, separated by waxed paper or paper muffin cups, at room temperature for up to 3 days.
---
Source: Just Cook It by Justin Chapple [Houghton Mifflin Harcourt, 2018]
Photo Information: Canon T2i, EFS 60mm Macro Lens, F/8 for 1/20th second at ISO‑100