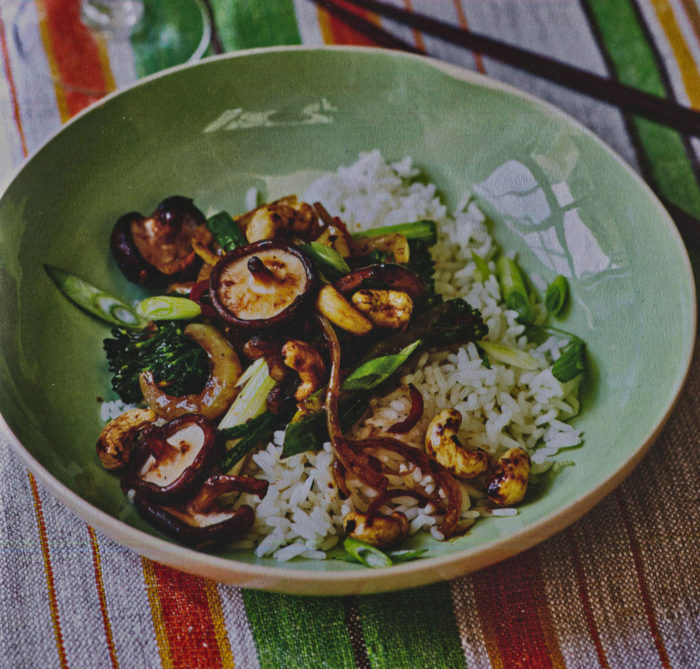 This lovely recipe comes from the new Leon Fast Vegan. The massive book has plenty of explicit vegan recipes filled with tofu. But there are even more recipes, like this one, that will please anyone with a penchant for Asian food. If you have a wok, you are ready to go. If you don't, you can improvise with a heavy skillet. The authenticity here will the flavors of cashews, garlic, ginger, chili, onion, scallions, and those mushrooms.
Leon Fast Vegan will be in bookstores on March 5th. You can give this recipe a spin for a test drive of the book. If you do, I can predict what you'll be doing on March 5th.
---
Shitake and Cashew Stir-Fry with Black Bean Sauce
Yield: serves 4
Ingredients:
For the stir-fry:
1 cup cashew nuts
1 tablespoon neutral cooking oil
2 cloves of garlic, thinly sliced
1 thumb-size piece of fresh ginger, peeled and sliced into thin matchsticks
1 red chili (less if you're serving to little ones), thinly sliced
1 large onion, thickly sliced into semicircles
8 ½ ounces shiitake mushrooms, halved
1 cup green beans (cut into thirds)
6 scallions: 4 each cut into 4 pieces, 2 finely sliced
1 teaspoon sesame oil
Steamed rice (allow ⅓ cup uncooked rice per person), to serve
For the black bean sauce:
2 tablespoons fermented black beans
1 vegan vegetable bouillon cube or 1 tablespoon vegan vegetable bouillon powder
1 ¼ cups hot water
1 tablespoon neutral cooking oil
5 cloves of garlic, finely chopped
1 thumb-size piece of fresh ginger, peeled and finely chopped
2 tablespoons tamari soy sauce (use gluten-free if you need to)
2 tablespoons vegan mirin, Chinese rice wine or dry sherry
1 teaspoon coconut sugar (or light brown sugar)
1 teaspoon cornstarch
1 tablespoon cold water
Preparation:
To make the sauce, rinse the black beans to remove the salt, then coarsely mash. Mix the bouillon cube or powder with the hot water and set aside.
Heat the oil in a small saucepan over medium-high heat, then add the crushed beans and finely chopped garlic and ginger and stir-fry for 2-3 minutes. Add the broth, tamari, mirin, rice wine or sherry, and sugar and bring to a boil, then reduce the heat and simmer for 10-15 minutes or until the sauce has reduced by about half. Mix the cornstarch and cold water together, then add to the pan and cook for a few minutes, stirring, until thickened.
Meanwhile, toast the cashew nuts in a hot wok or heavy skillet over medium-high heat for 3-5 minutes, stirring frequently until golden. Remove from the pan and set aside.
Heat the oil in the wok or skillet over high heat until smoking hot, then throw in the garlic, ginger, and chili. Stir-fry for 30-60 seconds, then add the onion and stir-fry for another minute. Add the mushrooms and beans, and scallion pieces and continue to stir-fry for 2-3 minutes.
Add the toasted cashew nuts and the black bean sauce and stir to combine, then cook for 1 minute. Remove from the heat and stir in the sesame oil.
Serve with steamed rice, sprinkled with the finely sliced scallions.
---
Source: Leon Fast Vegan by Rebecca Seal, Chantal Symons and John Vincent [Conran Octopus, March 2019]