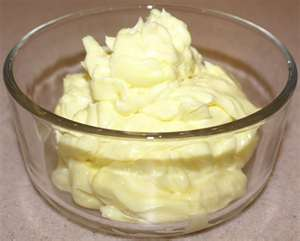 Mayonnaise is almost as important to sandwiches as bread. It's automatic that we spread mayo on that bread, or incorporate it into a salad filling: chicken salad, tuna salad, ham salad, …
Mayo from the store is a good product. It's nothing like home-made mayo. Nothing. But, if you are whisk-challenged, or simply do not have the time, then there is an easy and delicious way to step up that store product.
Adding some vinegar and sugar — it's all about balance — can transform that mayo. Here's the basic recipe:
Ingredients:
1/4 cup mayo
1-3 tablespoons of vinegar
1-2 teaspoons of sugar
Preparation:
Put everything in a bowl and stir to mix. Actually, this is a place where that whisk would be handy.
Discussion:
What kind of vinegar? Any kind. I first saw this idea in The Texas  Cowboy Kitchen cookbook, where mayo and malt vinegar are combined in these proportions for a cole slaw dressing. That's just the beginning. Today, I used honey vinegar, with only a teaspoon of sugar, to create the spread for a ham sandwich on toasted bread. Ham and honey are a natural pairing. Doing it via honey vinegar was culinary fun.
You've got a shelf with more than one bottle of vinegar, and that means you have several ways to apply this technique: for sandwiches, for salad dressings, for dips. It's rare to find something so deliciously easy and tasteful.