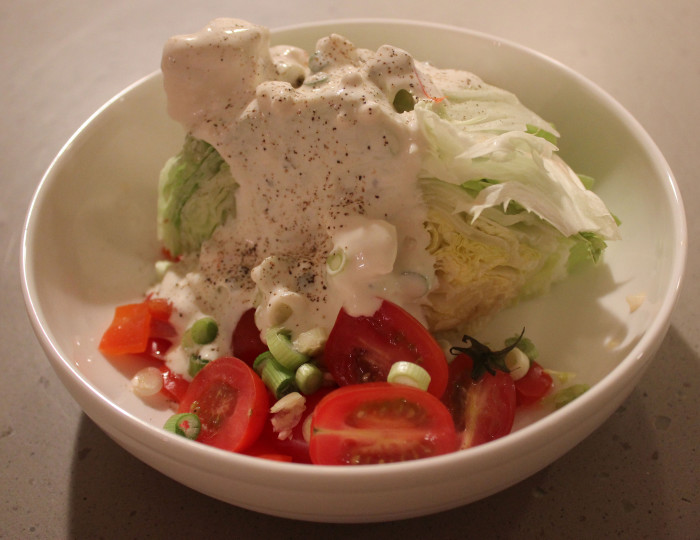 Some form of this salad dressing has almost surely graced your plate in the last year. Served on an iceberg wedge or over romaine, paired with onion or tomatoes or almost anything veggie, this dressing can only be described as invigorating.
The ingredients vary from one recipe suggestion to another. Suzen's version below uses the kitchen sink approach with a little of everything.
Suzen is equal opportunity when it comes to the dairy and mayo components. She uses equal amounts of buttermilk, sour cream, and mayonnaise. But the proportions are literally up to you. If you are tempted to eliminate the mayonnaise, think twice. It's a smoothing factor that does provide mitigation for the sharpness of the sour cream and buttermilk.
The recipe calls for a tablespoon of vinegar. The typical recipe calls for simple white wine vinegar, and that works. But, if you have shelf full of interesting vinegars, why not experiment here? This recipe will never taste the same twice and your choice of vinegar is truly the way to give the dressing its own personality.
You can also play with the amount and type of cheese. Some recipes simply say blue cheese while others specify Gorgonzola. Pick your favorite, crumble it up and enjoy every biting bite.
---
Suzen's Blue Cheese Buttermilk Salad Dressing

Yield: ~ 1 ½ cups

Ingredients:

⅓ cup mayonnaise
⅓ cup sour cream
⅓ cup buttermilk
1 tablespoon vinegar of your choice
2 tablespoons chopped chives
1 teaspoon diced garlic
½ teaspoon Worcestershire sauce
½ teaspoon hot sauce of your choice
Juice of 1 small lemon, with controlled addition to the bowl
Salt and pepper to taste
4 ounces, or more, crumbled blue cheese
Preparation:

Combine the mayo, sour cream and buttermilk in a medium bowl. Whisk to mix.
Add the vinegar, chives, garlic, Worcestershire sauce and hot sauce. Stir to mix and taste test. Add enough lemon juice and salt and pepper to fit your flavor profile.
Add the crumbled blue cheese and stir to mix. Refrigerate until ready to use.
---
Source: Suzen O'Rourke

Photo Information: Canon T2i, EFS 60mm Macro Lens, F/4.5 for1/15th second at ISO‑3200