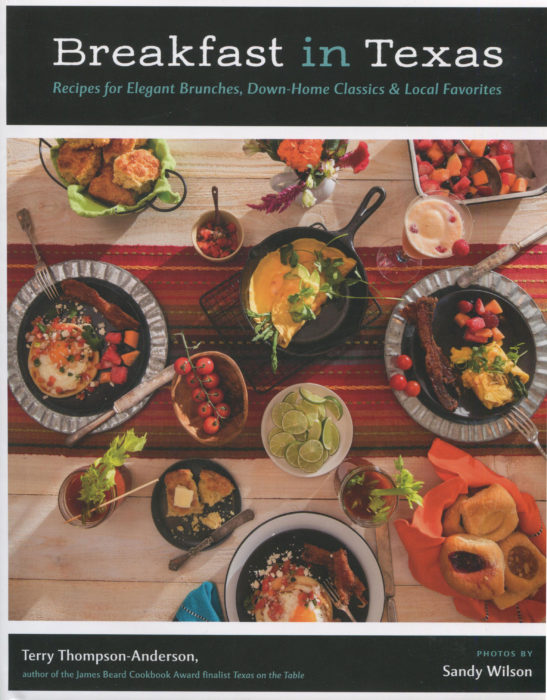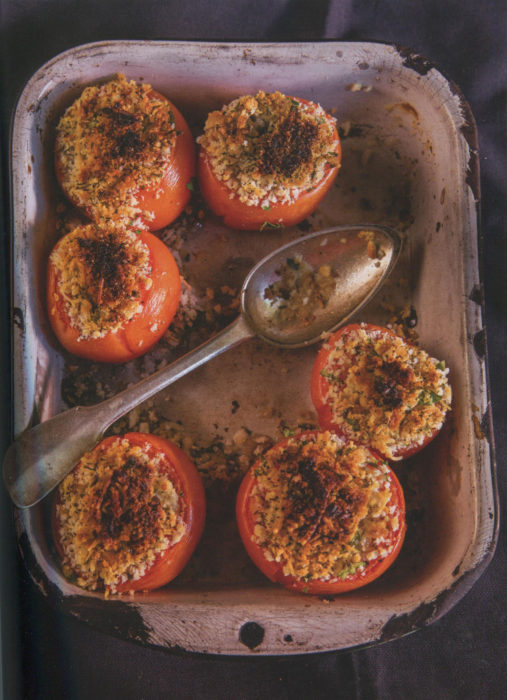 Sometimes you only need one good reason to fall in love with a cookbook. For me, it is the Honey Baked Tomatoes pictured above. With a breakfast suggestion like that, the wonderful new Breakfast in Texas is immediately irresistible.
Oh, there are more traditional breakfast ideas here. Author Terry Thompson-Anderson wrote the fabulous Texas on the Table cookbook three years. She toured Texas to find the best recipes ranging from high end chefs to home cooks. If you haven't looked at that book, here's a review. Or I can just say that in Texas on the Table you will find Peach and White Chocolate Bread Pudding with Schnapps-Whiskey and Chantilly Cream.
What, you are rushing out the door? Well, buy both books: Texas on the Table and Breakfast in Texas. They are the perfect tag team.
Once again Terry has traveled Texas, east to west, north to south. This time she's focused on the best restaurants in major cities and the hidden diner gems on the backroads between dusty small towns. Her goal, of course, is food but there's history here, too.
For example, there is a recipe for Chicken Fried Waffles. It's a good, solid recipe. But Terry must have been giggling when she wrote the real story. It isn't a Texas recipe at all. It isn't even Southern. Well, that's not quite true. Waffles do come from the south thanks to the man who brought the first waffle iron to America, who else but Thomas Jefferson. And the fried chicken was a favorite of Black Americans who migrated north to the industrial cities. It was in Harlem, that chicken met waffles. And then a Harlem man moved to Los Angeles where celebrities embraced the dish. And the dish has migrated all across the nation, right down to Texas where everybody thinks it came from in the first place.
That story is an example of the research and detail that Terry has applied in collecting these recipes. Her message is that Texas always was and now, even more so, has become an amalgam of cuisines from around the world. There's Hispanic influence, of course, but also Cajun and German. And then there's the creativity of today's world class Texas chefs refashioning Texas ingredients to make your breakfast very, very delightful.
There are chapters here for:
Breakfast and Brunch Libations
Crack an Egg: Simple, Classic and Fancy Presentations
Heavenly, Syrup Pancakes, French Toast and Waffles
Meat Lover's Breakfast and Brunch dishes
Breakfast and Brunch form the Bounty of the Waters
Vegan Breakfast and Brunch Menus and Great Sides for Any Breakfast
Tasty Pastries
Inside those "normal sounding" titles are page after page of dishes you'll want to sample. Dishes like:
Apfelpfannkuchen, a skillet sized single fluffy pancake with apples, honey and cinnamon

Carne Asada Waffle with Warm Brie and Coffee-Maple Syrup

Eggs Benedict with Chipotle Hollandaise Sauce

Mexican Hot Chocolate with almonds

Smoked Catfish Mousse with Ravigote Sauce and Sweet Potato Chips

Apple-Raisin Blinis with Mascarpone and Honey plus Raspberries

Pork Barbecue with Mole Verde

Crab Cakes and Poached Eggs on Fried Green Tomatoes with Orange-Ginger Hollandaise Sauce

Apricot Ginger Scones

Mexican Hash Browns with Serrano Chilies and Monterey Jack Cheese

Quail in Country Ham on Scrambled Eggs with Peppered Coffee Gravy
And, to end the breakfast meal, there are desserts. What better way to finish than with gooey Bananas Foster. I mean, if you start with the Honey Baked Tomatoes, which are relatively healthy for God's sake, you deserve that closing combination of sugar and rum and bananas. Ask any Texan. Or just read the gracious and glorious ideas in Breakfast in Texas.
Breakfast in Texas is especially wonderful because of the photography by Sandy Wilson, a woman who knows how to make sauce drip off the page. Her Chipotle Hollandaise will suck you right into the book!