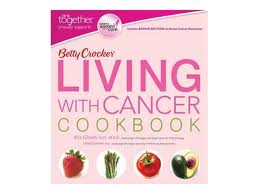 This a serious but very positive cookbook review.
We all hope for a long and healthy life. Longevity is now much more attainable — remember when "50" was old? Thanks, in part, to modern medicine we can expect to live far longer than we might have dreamed.
The catch here, and there's often a catch in life, is that a longer life through modern medicine often involves a battle with cancer. Sometimes that battle is won outright. Sometimes the battle is lost, but only after precious years are secured.
You, a family member, or an acquaintance may have had that cancer diagnosis or will. When you hear the word "cancer", your world changes.
Fighting the battle is crucially dependent on nutrition. And the cancer treatments can often make the tasks of cooking and eating complicated. Appetites can fade. Certain foods may not be tolerated any more. Your daily life is turned upside down just as your life itself is threatened.
The Betty Crocker Living with Cancer Cookbook is designed for this new stage of life. There are over 150 recipes providing superior nutrition without sacrificing taste.  The book has been compiled with the expertise of two prominent oncologists and a nutritionist. This is a professional approach groomed to deal with a very personal problem.
The recipes are flagged to show which ones can help mitigate common side effects of cancer treatment, such as nausea. There are recipes for the "cooking challenged" and ideas for "make ahead" dishes that provide you up to six small meals and snacks spread throughout the day.
The reassuring thing about these recipes is that old friends are here so that your "diet" will not have to be totally transformed:
Old-Fashioned Beef Pot Roast
Cheesy Beef Enchiladas
Hot Turkey Sandwiches
Chicken and Vegetable Stir-Fry
Oven-Fried Potato Wedges
Baked French Toast with Strawberry-Rhubarb Sauce
This book will be an important asset for anyone facing the battle. Fortunately, it will make that struggle much less arduous.