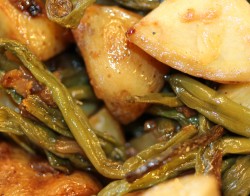 The combination of Easter and Passover at the beginning of spring can create culinary overload. In ancient cultures, the "new year" began in the spring, when winter's darkness was finally gone and the green sprouts announced that a new year had finally arrived.
The holidays provide the opportunity for celebrations embracing food. And they often trigger our imaginations: now is the time of year to dig out cookbooks, search for recipes and do something wonderfully new.
Or, you can do something wonderfully traditional. Joan Nathan is an accomplished food writer and culinary expert. She has explored her Jewish roots — and its accompany food and flavors — in books and on television. In her latest book — Quiches, Kugels and Couscous: My Search for Jewish Cooking in France — she continues her explorations and serves us with a bounty of wonderful information and grand flavors. She has explored the markets and kitchens throughout France: Paris, of course, plus Alsace and the Loire. Each recipe comes with its own "story" where we learn about the way French and North African influences have blended with Jewish tradition to generate a whole new multi-cultural cuisine.
There are 2000 years of history here, some wonderful and some sad. That range of experience has forged a wealth of recipes now served in Jewish homes and restaurants throughout France. There are recipes that you almost certainly have never been able to treasure:
Moroccan Haroset Truffles with Almonds and Fruits: balls of almonds, dates, apples, and spices
Green Pea Soup with Tarragon
Artichoke and Orange Salad with Saffron and Mint
Algerian Eggplant Gratin
Terrine of Chicken Flavored with Pistachio, Curry and Hazelnuts
Alsatian Pear Kugel with Prunes
Whatever your cultural background, this wonderful book is a resource for new ideas that you will embrace.
For Easter dinner, we sampled this simple French combination of green beans, onion and potato. Easy to prepare, this is dish is perfect for roast chicken, or, in our case, roast lamb.
Yes, this recipe can seem a bit strange: cook the bean for a 60+ minutes and the potatoes for only 30. It works, and, as Joan, notes the beans are thoroughly cooked. The picture above shows that to be very true. You can get more doneness with potatoes by cutting them smaller and adjusting the cooking time to suit your "brown and crunchy" needs.
Friday Night Green Beans with Onions and Potatoes
Yield: 4-6 Servings
Ingredients:
3 tablespoons vegetable oil
1 large onion, roughly chopped
1 pound green beans, trimmed and cut into 1-inch pieces
Salt and freshly ground pepper to taste
1 pound potatoes, peeled and cut into 1-inch cubes
Preparation:
Preheat the oven to 350°F.
Heat the vegetable oil in an ovenproof frying pan. Add the onion, and sauté until soft and golden. Add the green beans to the frying pan, stir to coat with the oil, and season with salt and pepper. Place in the over for 30 minutes.
Toss in the potatoes, and bake for another 30 minutes, or until the potatoes are cooked through and the beans are very tender.
Source: Quiches, Kugels and Couscous by Joan Nathan