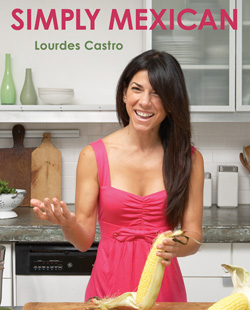 I had just returned from a mini-vacation with Brian in Phoenix when I got an unexpected gift: a copy of Simply Mexican by Lourdes Castro. We ate well in Phoenix and I had a longing for one more great spicy meal.
Lourdes has created a delightful book with easy, authentic and quite delicious dishes. The photos in the book are tantalizing, we saw the picture of the Chili Rubbed Pork Chops and could not resist trying this dish at the first opportunity. The results were hot to the palate and warm to our hearts.
Brian and I love the cuisines of the Southwest and Mexico. We remember wonderful nights spent in Santa Fe and Phoenix. Somehow, Brian and I have never been to the Caribbean or Cuba. I had been in Miami not too long ago and loved the fresh flavors.
Lourdes is an expert and loving proponent of Mexican and Cuban food. Her book offers us a wonderful introduction to her Mexican food with a Cuban slant. Reading this book, you'll gain new perspectives on those warm ingredients, like peppers and cilantro, that automatically make you salivate.
With Lourdes's book, we can generate terrific, authentic meals back home in New York. Our pork chops, lean and meaty cuts, were as beautifully red as their picture. The rub had just penetrated the meat to let each bite have a kick from top to bottom. For accompaniment, we had made her Fresh Tomatillo Salsa.
Now, some people swear you have to cook the tomatillos and others love them raw in the blender. Lourdes offers a raw-in-the-blender recipe, but gives a classy hint: for slightly firm tomatillos, which we had in mid-April, substituting some fine vinegar instead of the usual water gives just the needed flavor boost.
Lourdes is a colleague of mine, a fellow member of Les Dames D'Escoffier, a women's culinary group that emphasizes culinary education and scholarship.
Lourdes writes with the clear precision of a true educator. Born in Miami and now living and teaching in New York City, Lourdes presents recipes that reflect her dedicated experimenting and balancing of flavors. Her carefully stated proportions let you convert a handful of ingredients into dishes that are bright to both the tongue and eye. Her sparkling flavors are easily prepared and destined to be happily enjoyed.