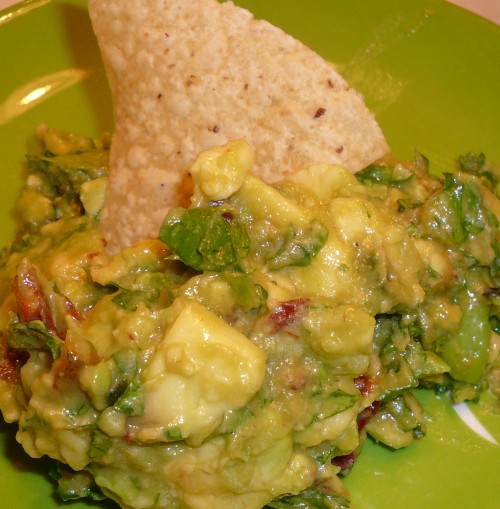 Guacamole recipes surround us. They outnumber us. Can there possibly be some new recipe that is really distinctive?
Yes, there is. From James Peterson's new book, Kitchen Simple, comes this recipe that is both simple and good. It is a minimalist recipe. Here you will find no onion, no garlic, no mashing of the avocado. The taste here is simple avocado in chunks, heated with chipotle, herbed with cilantro, and intensified with lime juice.
The taste here is less complex than the standard guac. Your first bite may leave you wondering "what hath Peterson wrought". But you can't have just one, and as you sample it more this guac grows on you.
To accompany this guac's delicate fruity flavor, use a red sangria packed with fruit. Sit back, dip your chip, sip your beverage, and enjoy any last traces of summer.
Ah, Peterson says to use chipotle chiles for a serious reason. He argues that just using fresh jalapenos may disappoint you. His concern: jalapenos can no longer be depended upon for intense heat. You may have had the experience of buying jalapenos over the past few years and finding some hot, some rather mild, and some that mysteriously have the flavor of inferior cardboard. Peterson blames genetic engineering "progress" and I agree.
Spicy Guacamole
Yield: 8 servings
Ingredients:
4 ripe avocadoes, preferably Haas
Juice of 1 lime
1-2 chipotle chiles, dried (soaked for 30 minutes in hot water) or canned in adobe sauce (sauce rinsed off)
1 poblano chile, roasted (optional, don't do it if you want to keep this really, really simple)
1 small bunch cilantro, chopped
Salt
Pepper
Preparation:
Cut around and through the length of the avocadoes all the way down to the pit. Rotate the two sides in opposite directions and pull them apart. Whack the pit with a knife, give it a twist, and lift the pit out and discard.
Cut the avocado lengthwise into quarters and the peel from each elongated wedge. Chop the avocados, coarsely. Stem, seed, and chop the chiles. Combine the avocados and chiles and stir in the lime juice, chiles, and cilantro. Season with salt and pepper. Serve as soon as possible so that the avocados do not get dark.
Source: Kitchen Simple by James Peterson