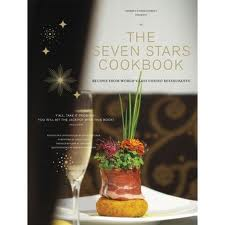 When you walk through a casino door, is there a sure thing? Well, losing money is a sure thing, unless you play blackjack and count cards. Blackjack, if played according to strategies developed by mathematicians, is the one casino game that offers a slight advantage to the player. But, trying to play "mathematically" in the midst of all the noise and distraction on a casino floor is hard.
And, if you do succeed at playing mathematically by counting cards, your hard-earned winnings will draw you the very polite attention of the casino security force. No more free drinks. That door you walk through onto the casino floor? You'll be escorted right back out.
So, no sure thing at the casino? Twenty years ago, I would have agreed. But now, it's a new world and there is a definite sure thing: great food. Casinos around the world, and certainly in Las Vegas, have worked to amplify the reasons for you to visit. Of course, they'd love to have your money at the gambling tables, but they'll be quite happy to trade your money at the dinner table. They take the money but you get a meal that you can treasure.
Harrah's Entertainment has assembled a wonderful book, The Seven Stars Cookbook, featuring recipes from their bevy of casino/resort establishments. Often, you'll see a book offering such an "assembly" of recipes and pass on by. How good can such a book really be?
In this case, the answer is very good. This is a book filled with striking ideas. The recipes have distinction and will certainly tempt you. Here's a sampling:
Avocado Spring Rolls
Grilled Shrimp Gazpacho
Crispy Fried Green Bans
Cauliflower Gratin
Peanut Crusted Trout
Oreo Cookie Macaroons
The recipes here are elegant but certainly achievable by the home cook. It's a matter of patience, but executing one these recipes is certain to bring you both satisfaction and applause.
A key feature of this book is the abundance of photographs. If the recipe title does not grab you, then the pictures will. When you see the picture, that Avocado Spring Roll is something you will want now. With so many of the dishes superbly styled and photographed, you will be truly inspired to prepare and simultaneously educated in how to present the dish.
If you are interested in food photography or styling, then this book should make your "must" list. The styling is richly magnificent. The book itself is oversized, printed on superior paper, with great effort made to have the pictures resonate off the page. The publisher, Chronicle Books, has a reputation for producing distinctive cookbooks of quality. Here, they have certainly raised that already solid reputation. In an era of "less" here is cookbook that really strives, and succeeds, to do more.
This book was published a year ago. If you have not seen it, you should search out a copy to explore. With the holidays upon us, The Seven Stars Cookbook would be a very gracious gift for any foodie friend. Or, you can treat yourself to this scrumptious collection of colorfully interesting ideas.