Generally Brian and I write about new or old cookbooks that we recommend cooking from, but today I'm happy to tell you all about a delightful gig we sponsored for the Credit Suisse Big Brother and Big Sisters of New York City.
A little back history first. Several weeks ago I received a call from Caroline Song who works for BBBS of NYC. Caroline was looking for a fun event for her kids and their mentors to share after school. Naturally they had no budget, no surprise there, but as luck would have it for her one of our culinary advisors Larry Catanzaro is a Big Brother already.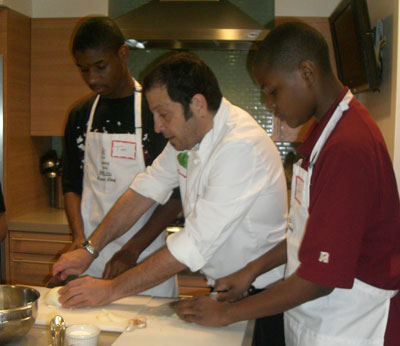 I called Larry and asked him if he would gather some staff members who wanted to donate their time to this worthy event. Also, no surprise, Larry quickly enlisted fellow CbtB vets Rian Smolik and Donna Boland to teach. Joyce asked some of our front of the house staff to step up, and both Susan Soggs and newbie Mike Ramon also joined the party. Joyce, our executive chef, came up with a flavorful menu no kid could resist. In the back of the house, Leo Arnoux brought up the rear in the kitchen.
Our kids cooked and we cleaned. The kids were delighted. The kids had a blast as did their mentors. They were enthusiastic, motivated and super polite. Their mentors are clearly doing a wonderful job, as are their parents. Many thanks to the Big Brother and Big Sister arm of Credit Suisse for funding this program and mentoring great kids.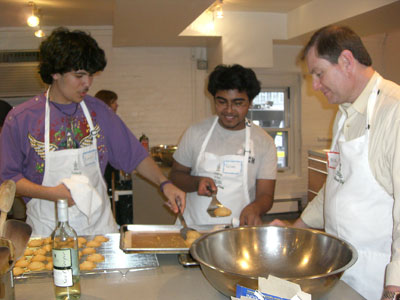 Here is the menu that kids from 10 to 99 can try and savor: Mixed Italian Greens with Parmesan Shortbread Cookies Rigatoni with Tomatoes, Sausage and Herbs "The Elvis Special" AKA Peanut butter and Jelly Bars with Candied Bacon Ice Cream We have attached the Parmesan Cookie recipe for all to try. It's a killer. Yes, I know that Candied Bacon Ice Cream sounds a bit strange, but you have trust me on this. Elvis would have died for it.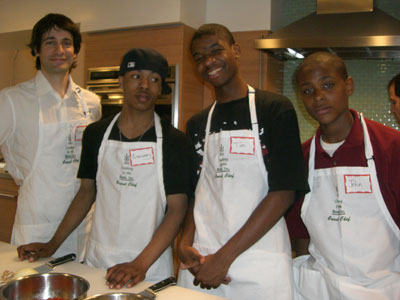 Savory Cheese Shortbread Cookies Cheese Shortbread
1¾ cups all purpose flour
¾ cup plus 2 tbsp grated sharp cheddar cheese, parmesan or crumbled blue cheese
1 tsp coarse kosher salt
½ small garlic clove, minced
pinch of cayenne pepper
1 cup (2 sticks) chilled unsalted butter, cut into ½-inch cubes
Cheese Shortbread
Preheat oven to 350 degrees. Line baking sheet with parchment paper. Mix flour, ¾ cup Cheddar cheese, salt, garlic, and cayenne pepper in processor. Add butter and, using on/off turns, process until dough begins to come together. Gather dough into ball. Divide dough in half. Roll each half into 12-inch log, and cut each log into 1-inch pieces. Roll each piece into ball. Arrange dough balls on prepared baking sheet, spacing about 1½ inches apart. Press each ball into 2-inch-diameter round.
Servings: 24
Recipe Source Author: Adapted from Source: Essentials of Italian and Bon Appetit