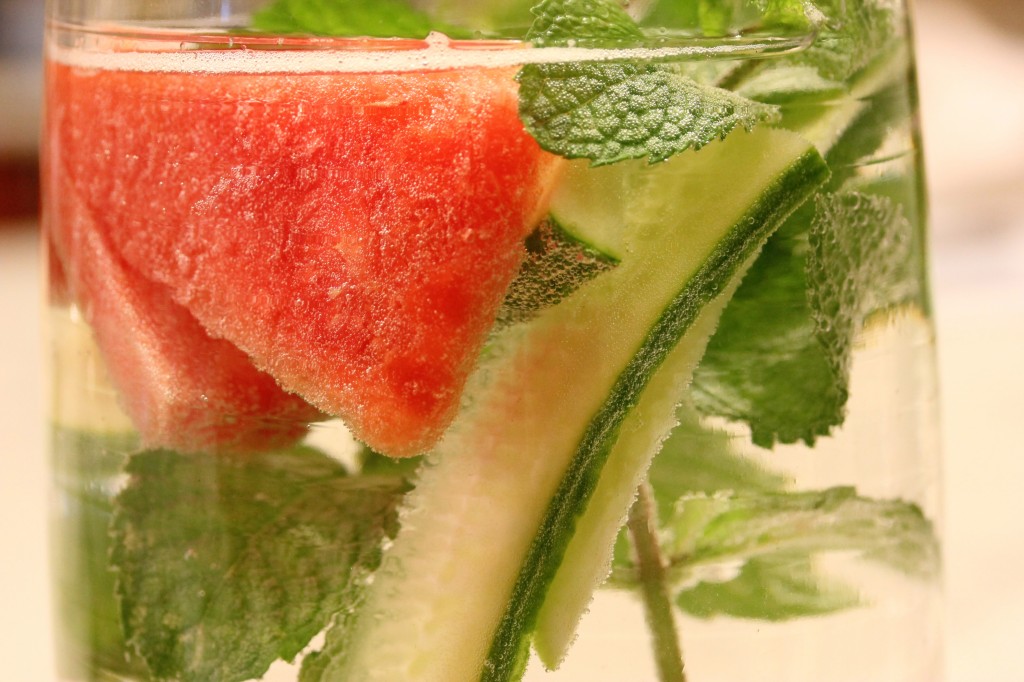 "Rum," Brian said with confidence. A little too much confidence for my taste, but he was about to be cut down to size.
"No," I said quietly.
He pondered the pitcher. I knew the mint was distracting him.
"Tequila," he guessed.
"No."
He stooped low to the pitcher.
"NO CHEATING!" I yelled. "You can't smell!"
"Gin," he was beginning to snarl.
"No," I repeated.
"Ah, you've tried to trick me. It's watermelon-flavored vodka." A bad wild guess on his part. He was wearing down.
"No," I said. "Give up?"
"Yes, damn you." He was now meek and tamed, the way any good husband should be.
"Water," I said.
"Water?" His voice carried terror.
"Yes, water and only water. No booze. No sugar."
"If I drink that it will kill me," he protested.
"If you don't drink it, you'll wish you had." Sometimes a wife deserves to be on top.
When it is smoking hot, and for many of you it is triple digit time, this is a most refreshing beverage. Last Saturday we were at Blue Cashew [www.bluecasherkitchin.com] in Rhinebeck, New York for a book signing. Blue is a superior kitchenware store with an upscale stock of goods that will have you happily wandering for hours.
To make a warm day easier, Blue served this delicious water. It's a simple pitcher with a slice of melon, a slice or two of cucumber, and some mint. Served very cold, it is the perfect pick me up. And, no alcohol. No sugar. Beautiful to behold.
In the end, Brian did taste and he did like it. [I had hidden the sugar container in our kitchen so he had no choice.]
Oh, the book signing was for American Masala by Suvir Saran, a neighbor of ours in the city. Suvir's Manhattan restaurant Devi has received a Michelin star. You should consider his books or his restaurant for marvelous Indian cuisine.
Watermelon, Mint and Cucumber Water
Yield: 1 pitcher
Ingredients:
Water
1 thick slice of ripe water melon
1 sprig of fresh mint
1-2 slices of peeled, seeded cucumber
Preparation:
In a 1-quart or larger pitcher, fill with cold water. Add the melon, mint, and cucumber. Refrigerate until just before serving.
Source: Blue Cashew in Rhinebeck, New York