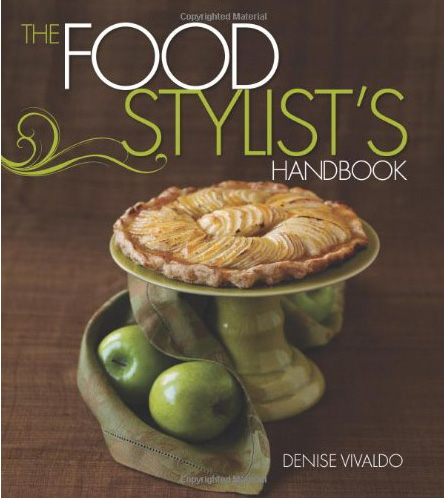 "That looks great."
"I could do that."
"I'd love to do that for a job."
Those are thoughts that rush through thousands of minds each day as we browse the pictures in cookbooks and on line. Food photography is everywhere now, and there's a race to the top to produce pictures that are transcendentally beautiful. Those magically soft-focused shots, in contemporary colors, are absolutely seductive. They help sell cookbooks and ingredients and utensils. That's not bad. And they certainly inspire us to try recipes we would not have imagined before. That's definitely good.
So maybe you'd like a career in food style or food photography. Or maybe you'd just like to make your creations even more spectacular for that next party or family event. Where can you turn to see if there is a career path for you, or a bushel of hints that will elevate your skills. The Food Stylist's Handbook by Denise Vivaldo is the perfect place to turn. Author Denise Vivaldo has over twenty-five years of vast experience as a chef and food stylist. Her firm, Food Fanatics, styles food for cookbooks, packaging, television and film. Her encyclopedic knowledge is beautifully conveyed in this book.
This lovely book, filled with those inspiring pictures, is divided into two parts: the path to a food styling career and the key techniques to apply when on the job.
Part one begins with describing just what a food styling career entails. What does a stylist do? What goes into a styling kit? How do you start a business, market you services, and — most importantly — make a profit while you enjoy the opportunity to be creative? There is an important chapter that will assist your career program: which niche of food styling should you target. Food styling is so ubiquitous that different styling experts are needed for print, packaging, television, and web formats. Knowing the differences about those markets can ease your way into a new career.
Part two is the one that any foodie will love: it's filled with ideas and techniques for styling your food — both for the table or for a photo shoot. The book is dotted with intriguing ideas:
The power of pepper to add contrast and depth is clear in photos of soft boiled eggs
How do you get your bacon to have that flowing wavy look: use any of three techniques presented here
You might not really eat a foot high sandwich, but just how do you build one so it's not the Leaning Tower of Pisa: there's some "structural engineering" here that you could apply to any tower of food
How can you get a beautiful shot of a slice of cake: your styling effort begins with that cut piece and involves multiple precise steps to dress up and perfect that picture
This part of the book truly takes the mystery out of "how did it get to be that beautiful." The secrets are clever, detailed work. Multiple steps. And patience. Those photos that look like works of art, well, they are works of arts. Great food shots are not snapshots. They are the culmination of serious thought and effort. The Food Stylists' Handbook is your perfect introduction to the art and business of food styling.