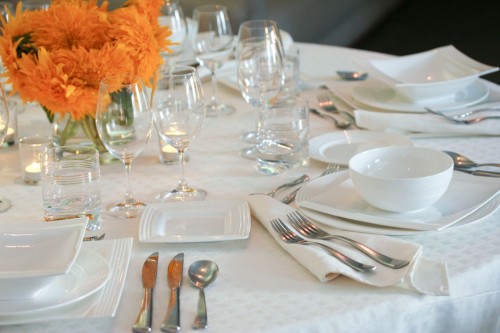 There is eating and there is dining. At an even higher level, there is the dining experience. That full experience is a reward that every person recognizes and relishes. It goes far beyond the food. In fact, the food can be secondary. You can have a dining experience in a four star restaurant, or with your own barbeque. It is the setting, the pace, and the style of the meal that generate that "dining experience."
The table is the focus before the food even arrives. A table adorned with fine china, glassware, and flatware carefully arranged on linens and accompanied by flowers and serving pieces can be a masterpiece.
Cooking by the Book is exceptionally pleased to have Lenox as our newest culinary partner. Lenox is furnishing the china, glassware, flatware, and linens for our tables. The picture above is a wonderful example of the power of the table fueled by Lenox.
That pattern, by the way, is Tin Can Alley, one of the top seller's in the Lenox lineup. Tin Can Alley is a beautiful pattern that has elements of farmhouse, deco, and oriental styles all blended with a strong white finish capped with bold lined edges. Round and square plates, dishes with multiple depths, and gallant serving pieces let you easily fall in love with the pattern.
Lenox is America's only maker of fine china. They design and manufacture here in America, but, of course, sell worldwide. Their very name is synonymous with fine china.
We have multiple patterns here at CBTB. Tin Can Alley is our everyday standard, and could be yours, too. This pattern is very affordable and, best of all, goes right into the dishwasher. Our other patterns are for even more upscale dining, for bridal showers, or for a French feel. We'll be photographing and sharing the feel of all those designs with you in the future.
We know our readers go to great efforts in the kitchen to prepare the best in flavors. That investment in care can be amplified by having a table that resonates with quality. Visit the Lenox website [www.lenox.com] to see some wonderful dining options.