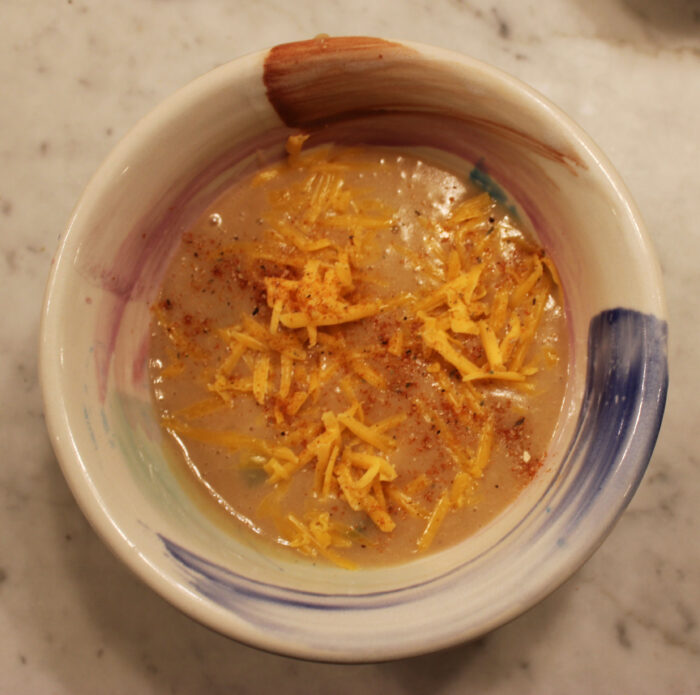 My God, but this is good.
I like comfort food. I crave it. My favorite? Gee, how about a baked potato with butter and sour cream and chives. Maybe with some dashes of hot sauce.
I now have a new favorite. Still potato-based but now mixed with buttermilk, bacon, and jalapeno. All of which just happen to be on my Top 10 list of ingredients. This soup is a delight. Thick, redolent with those favorite flavors, and actually a bit confusing at first bite. Oh, it's good to be sure. But, you'll stop and ask yourself: what exactly is this? There is the tang of jalapeno and buttermilk plus the dense texture of the potatoes. Rich, thick, creamy, yummy.
Not a soup fan? Forget those dreadful experiences of soup-from-a-can. This serious soup. And you'll smile.
---
Buttermilk Potato Soup with Bacon and Jalapeno
Yield: serves 4 to 6
Ingredients:
6 slices bacon, diced
1 celery stalk, chopped
½ yellow onion, chopped
4 cloves garlic, chopped
4 cups chicken or vegetable broth, plus more as needed
2 pounds russet potatoes, peeled and cut into 1-inch cubes
Pinch of ground cumin
Pinch of cayenne
2 jalapeno chiles, roasted, stemmed, seeded, and diced
2 teaspoons chopped fresh cilantro
½ cup buttermilk, plus more as needed
½ cup half-and-half, plus more as needed
Salt and black pepper
Sour cream and shredded Monterey Jack cheese, for serving
Preparation:
In a large skillet, sauté the bacon over medium heat until crisp and the fat has rendered, about 5 minutes. Remove the bacon from the skillet and place it on a paper towel-lined plate.
Pour 1 tablespoon of the bacon grease into a large pot, reserving the rest for another use. Add the celery and onion and cook over low heat, stirring occasionally, until soft, about 8 minutes. Add the garlic and cook for 30 seconds 1 more. Add the chicken broth, potatoes, cumin, and cayenne. Turn the heat to high and bring to a boil; then turn the heat to low and simmer, uncovered, for 30 minutes, or until the potatoes are fork-tender.
Turn off the heat and let the soup cool for 10 minutes. Pour into a blender or food processor, and puree. (You may have to do this in batches. Alternatively, you can use an immersion blender in the pot.)
Return the soup to the pot and stir in the bacon, jalapenos, cilantro, buttermilk, and half-and-half. (This is a thick soup; so if you prefer it thinner, add water, more broth, more buttermilk, or half-and-half.) Turn the heat to low and cook for 5 minutes.
Adjust the seasonings and add salt and black pepper to taste.
Serve with sour cream and Monterey Jack.
---
Source: Mexican Breakfast Cookbook by Jacqueline Higuera McMahan
Photo Information: Canon T2i, EFS 60mm Macro Lens, F/3.5 for 1/30th second at ISO‑400