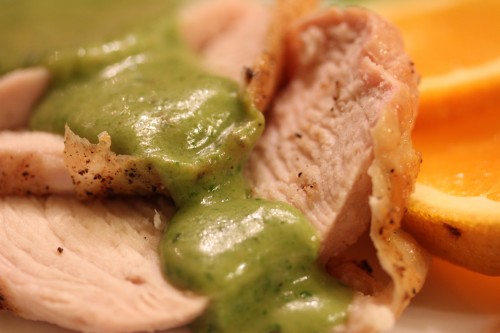 Cilantro is a lively herb that we mostly encounter diced up in salsa or in guacamole. The sharp flavor is unmistakable. Cooked cilantro? That's a much more rare experience, yet this sauce will convince you of some hidden flavor powers of cilantro.
This sauce is a thick, dense amalgam of cilantro and chicken-based stock. It has a deep, almost earthy flavor. Originally, this sauce was recommended for roasted chicken breasts, but we served it on turkey breast [see yesterday's post for a turkey breast recipe].
Beyond poultry, this sauce would work brilliantly with fish, or serve as the sauce component for Mexican dish. Using this sauce in a burrito or enchilada will spark flavor buds and curiosity.
This sauce can be created in just a few minutes and, like all good leftovers, seems to be even more yummy the day after.
Cilantro Sauce
Yield: 1 ½ cup
Ingredients:
2 cups water
l chicken bouillon cube
l bunch cilantro, stemmed
½ cup heavy cream
3 tablespoons unsalted butter
3 tablespoons all-purpose flour
Salt and freshly ground pepper
Preparation:
Follow the usual instruction for a bouillon cube: heating 2 cups of water with the cube until the cube melts. You will use only half of this mixture. Or, you can double the recipe!
In a blender, combine the cilantro, cream, and one cup of the chicken bouillon. Blend well and set aside.
In a medium saucepan, melt the butter over medium heat. Stir in the flour and cook, stirring constantly, for 3 minutes; do not brown. Whisk in the cilantro mixture and cook over medium heat, stirring frequently, until the mixture boils and thickens slightly.
Season with salt and pepper.
Source: Adapted from The Seven Stars Cookbook