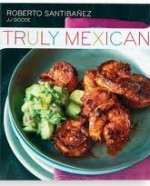 Cinco de Mayo. It's become something like St. Patrick's Day, an extended holiday where all of us can share some joy. Personally, I prefer Cinco. St. Patrick's is about parades and beer. Cinco is about food and beer — and margaritas.
Brian and I try to expand our repertoire of Mexican recipes each Cinco. From the new book Truly Mexican by Roberto Santibanez, here is an idea that will fortify your table and please every guest who loves heat. It's a salsa with the fire of chilies, the tang of tomatillos, and the lovely sweetness of early strawberries. Rather than have "plain old" salsa, liven it up with this new flavor combination.
This recipe calls for dried arbol chilies, not fresh. The dried versions are rated as very spicy. You do not have to deseed or devein them before roasting.
Sweet Strawberry Salsa with Arbol Chiles
Yield: 1 ½ cup
Ingredients:
2 dried arbol chilies, wiped clean stemmed
2 tomatillos, husked and rinsed
1 pound strawberries, rinsed, hulled and quartered [3 ½ cups]
½ cup sugar
10 whole peppercorns
2 whole cloves
2 small Turkish bay leaves or 1 small California leaf
¼ teaspoon fine salt or ½ teaspoon kosher salt
Preparation:
Heat a heavy skillet over medium-low heat and roast the tomatillos and toast the chilies, turning the chilies over and pressing down on them frequently with tongs, until they are browned all over and with some blackened spots, 3 to 4 minutes. Remove the chilies and continue to roast the tomatillos, turning them over only once, until their tops and bottoms have blackened and the tomatillos are khaki-green color and cooked to the core, 20 to 30 minutes total.
Add the strawberries to the tomatillos in the hot skillet and cook, stirring over medium heat, until they start to give off liquid.  Add the toasted chilies, sugar, peppercorns, cloves, bay leaves, and salt. Cook until the strawberries are soft, about 5 minutes.
Transfer the mixture to the blender jar and blend until the spices break down and salsa is very smooth, about 1 minute, then strain the mixture through a fine mesh sieve, pressing don and then discard the solids.
This salsa keeps in the refrigerator for up to three days.
Source: Truly Mexican by Roberto Santibanez