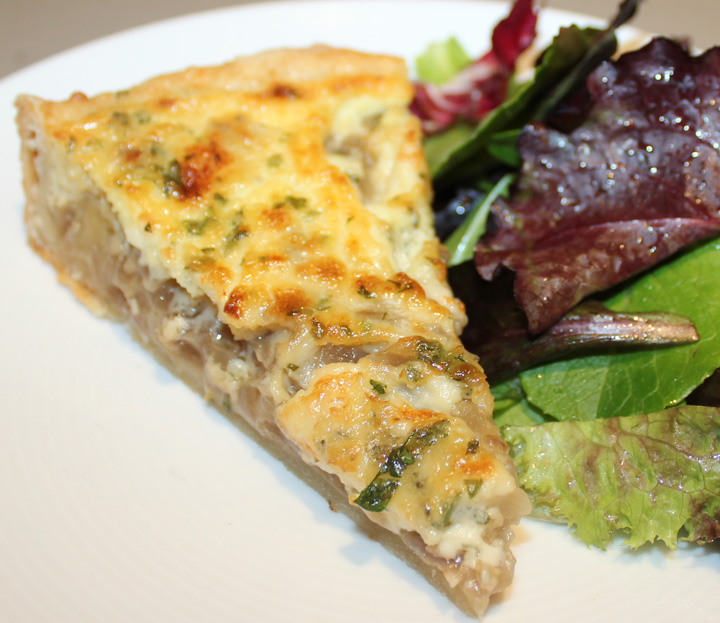 Abigail Kirsch is renowned for her catering company, THE premier New York City event caterer. If you are ever fortunate enough to attend an event where she provides the food, then one thing is certain: you will be amazed at the richness and completeness of her recipes. They are visually stunning and then you tasted them and … You'll want more and you'll want to know how to create each dish.
Abigail shared some of her recipe treasures with us in her book The Bride & Grooms Menu Cookbook. This tart was inspired by that Bride & Groom trove. I was in a garlic mood and I had a half-filled bottle of white wine. So the garlic here and the wine are my additions to an already awesome recipe. Paired with a simple green salad, this tart is certainly a perfect meal for Sunday brunch or for dinner any time. The flavors here are intense, so a subtle white wine will be overmatched. Be bold!
Gorgonzola and Caramelized Onion Tart
Yield: serves 8
Ingredients for the Apple Cake:
1 pre-made 9" savory pastry shell of your choice
2 tablespoons unsalted butter
2 tablespoons extra virgin olive oil or 2 tablespoons pancetta fat
2 large onions, chopped medium
1 head roasted garlic
¼ teaspoon salt
½ teaspoon sugar
½ cup dry white wine
2 large eggs, beaten
1 cup heavy cream or half and half
4 ounces gorgonzola cheese, finely crumbled
2 tablespoons flat-leaf parsley, washed, tough stems removed, chopped
Preparation:
Preheat the oven to 375˚F.
Heat the butter and oil (or reserved fat) in a large skillet over medium heat. Add the onion, roasted garlic, salt, and sugar and cook, stirring frequently, until the onion is golden brown and caramelized, 15 to 20 minutes. Add the wine and deglaze the pan and continue to cook 5 minutes longer until all wine has evaporated. Cool slightly and evenly distribute in the bottom of the partially baked savory tart shell. valign="top">Whisk the eggs, cream, and Gorgonzola together in the bowl until thy mixture is well blended.
Pour the custard over the onion and bake the tart for 30 to 40 minutes, until a knife inserted in the corner comes out clean. Transfer the tart to a cooling rack for 10 minutes.
Inspired By: Bride and Groom Cookbook by Abigail Kirsch