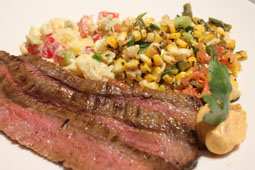 Everybody probably recognizes the phrase "sufferin' succotash." The phrase was uttered by the cartoon cat Sylvester and at times by Daffy Duck. That was in a gentler time when F-bombs were not strafing our cultural environment.
"Succotash" itself is an Indian word from the Northeast meaning "boiled corn kernels." The dish was once very popular, and perhaps a necessity, in depression-era America. Perhaps that is why it fell out of favor. Times got better and anything that reminded families of those sad times was left behind.
Well, these times are not great, but the flavors of succotash are wonderful in good or bad times. It's appropriate to bring back this dish, updated a bit with some parsley and cream and that dash of lime juice. And, then, to prepare it, it's just downright symbolic to revert to the dish's origin: grill the vegetables to gain all the flavors that direct flame creates on the charring veggie skins.
Vegetables cooked in water are blah. We have the French to thanks for the butter and garlic techniques that infuse flavor galore. But this direct-over-the-fire technique is my favorite. At summer camp, I did hot dogs and marshmallows. I wish I had done succotash.
This dish is bright with color and flavor. Of course, you can experiment a bit and perhaps add some roasted peppers. As a side dish, succotash is a powerful complement to all kinds of proteins: beef, pork, chicken, and, yes, even fish. It's versatile and a superb alternative to the "standard" potatoes or beans.
Grilled Succotash
Yield: Serves 4 to 6
Ingredients:
½ pound green beans, trimmed
6 scallions, trimmed
4 medium ears corn, shucked
2 large firm-ripe tomatoes, halved crosswise
¼ cup flat-leaf parsley, chopped
2 tablespoons fresh lime juice
1 tablespoon heavy cream
Preparation:
Brush the green beans, scallion, corn, and tomatoes with the 1 tablespoon of oil and season with salt and pepper.
Heat a stove-top grill pan or charcoal grill over medium-high heat. Grill the vegetables, turning occasionally, until softened and lightly charred, 1 to 2 minutes for the scallions, 3 to 5 minutes for the beans, 4 to 6 minutes, and 8 to 10 minutes for the corn. Transfer to platter as they finish and set aside.
Seed and chop the tomatoes; transfer to a large bowl. Cut the kernels from the cobs and add to the bowl with the tomatoes. Working over the bowl, scrape the dull side of a table knife down the length of each cob to remove as much of the corn "milk" as possible; discard the cobs. Roughly chop the green bean and scallions and add to the bowl along with, parsley, lime juice, and cream. Toss well and season to taste with salt and pepper.
Source: Adapted from Fine Cooking Magazine