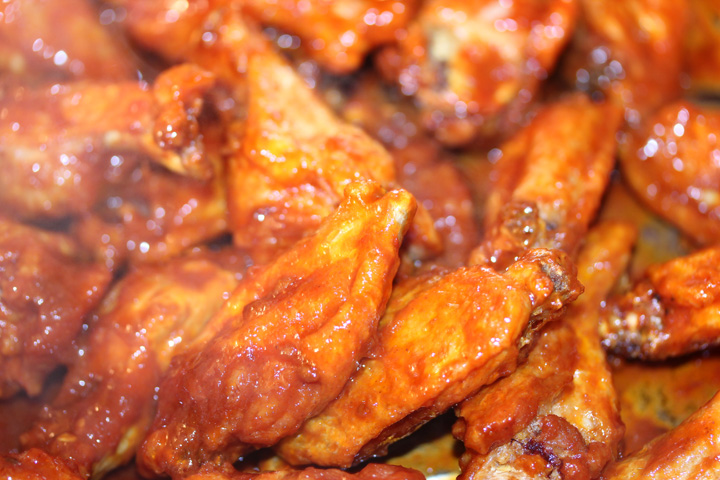 We've posted a variety of chicken wing recipes recently, using the delightful recipes from Wings Across America by Armand Vandersitgchel. Our earlier recipes were baked, avoiding the method of deep frying.
On Super Bowl Sunday, we did take the plunge. We made classic deep fried wings. If confession is good for the soul, then here it is: deep fried is better than baked. There, we said it. Really better.
Home deep frying has been a chore: messy and awkward and potentially dangerous. There is a new generation of home deep fryers out there that make life easier and we used one. Our deep fryer worked well and the wings were delicious. That said, there is a price for deep frying. Even with a kitchen vent going full blast, we still ended up with smell that drifted through our house and lasted into the next day. The solution here is pretty clear. You barbeque outside, on the patio or porch. And you should deep fry there, too.
These wings are made classically: you deep fry the wings then plunge them into a red sauce that would make any Aztec or Mayan proud. We used Frank's Original REDHOT sauce, as requested in the recipe. Frank's sauces are widely available, and they are terrific products. This is a case where store-bought is just simply and probably better than home made. Our market has three Frank's flavors but we were careful to use the original, basic, fire-instigating sauce.
Wings do not get better.
Santa Fe Chicken Wings
Yield: 25 Wings
Ingredients:
Vegetable oil for frying
2 ½ pounds (around 25 wings) trimmed and separated
¼ cup (½ stick) hot, melted unsalted butter
¼ cup Frank's Original REDHOT sauce
¼ cup chile sauce
1 teaspoon chile powder
Preparation:
Heat the oil in a fryer to 400°F. Deep fry the wings for 12 minutes or until crispy and no longer pink. Drain well.
Combine the melted butter, hot sauce, chile sauce, and chile powder in a small bowl. Mix well.
Pour the sauce over the wings and toss to coat.
Notes:
We love our wings drenched. So, for 25 wings we doubled the sauce. Every square inch of our wings was covered. There was plenty of heat in every bite. And, these thoroughly coated wings were delightful to eat as leftovers the next day.
Source: Wings Across America by Armand Vandersitgchel