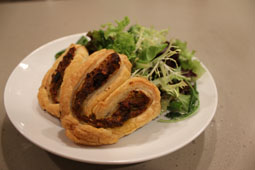 Palmier? Your mind instantly thinks of a wide, thin sweet pasty, laden with sugar. Perhaps paired with a cappuccino in a Paris café. They are big and they are a meal.
A savory palmier? That's got to be an oxymoron. How could you possibly make something that is not sweet, or, worse, potentially even healthy?
Well, you can. And these palmiers, filled with homemade pesto, are every bit as addictive as the sweet ones. Better yet, you can make and freeze these. Served as appetizers or as a first course with salad, as the recipe shows below, you'll find your dinner partners grabbing for more.
The unusual nature of these palmiers will immediately attract attention. Then, after a first bite, there will appear a smile and a quiet look of astonishment. Different, flavorful and zero calories.
Two out of three isn't bad.
Savory Palmiers
Ingredients:
For the Palmiers:
1 package frozen puff pastry, Pepperidge Farm or other, defrosted
1 cup prepared pesto, store-bough or homemade
½ cup crumbled goat cheese, such as Montrachet
¼ cup finely chopped sun-dried tomatoes in oil, drained
¼ cup pine nuts
For the Pesto (2 cups):
¼ cup walnuts
¼ cup pine nuts
3 tablespoons chopped garlic (9 cloves)
5 cups fresh basil leaves, packed
1 teaspoon kosher salt
1 teaspoon freshly ground black pepper
¾ cup extra-virgin olive oil
1 cup fresh grated parmesan cheese
For the Salad and Vinaigrette:
6-8 cups torn salad greens, such as frisée, Boston, red leaf, baby arugula
2 tablespoons chives, cut
½ teaspoon tarragon leaves, cut
½ teaspoon thyme leaves, minced
¾ cup extra-virgin olive oil
¾ cup red wine vinegar
1 tablespoons Dijon mustard
1 tablespoon water
Preparation:
Preheat the oven to 400°F.
To make the pesto: Place the walnuts, pine nuts, and garlic in the bowl of a food processor fitted with a steel blade. Process for 30 seconds. Add the basil leaves, salt, and pepper. With the processor running, slowly pour the olive oil into the bowl through the feed tube and process until the pesto is finely puréed. Add the parmesan and purée for a minute. Serve, or store the pesto in the refrigerator or freezer with a thin film of olive oil on top.
Purée the goat cheese and sun-dried tomatoes in a food processor; stir in the pesto
Lightly flour a board and carefully unfold one sheet of puff pastry. Roll the pastry lightly with a rolling pin until it is 9½ x 11½ inches. Spread the sheet of puff pastry with half the pesto, the sprinkle with half the goat cheese, half the sun-dried tomatoes, and half the pine nuts. Sprinkle with ¼ teaspoon salt.
Working from the short ends, fold each end halfway to the center. Then fold each side again toward the center until the folded edges almost touch. Fold one side over the other and press lightly. Place on a sheet pan lined with parchment paper and chill roll. Repeat for the second sheet of puff pastry using the remaining ingredients. Cover and chill.
Cut the prepared rolls of puff pastry into ¼-inch-thick slices and place them face up 2 inches apart on sheet pans lined with parchment paper. Bake for 14 minutes, until golden brown.
Meanwhile the palmiers are baking, prepare the vinaigrette. In a small bowl whisk together, the olive oil, red wine vinegar and mustard to emulsify. Add the chopped herbs and salt and pepper to taste.
Source: Adapted from Back to Basics by Ina Garten