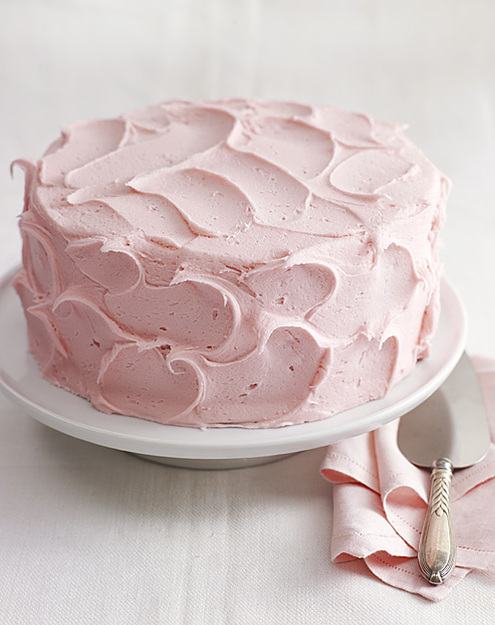 Yield: enough to fill and finish one 9-inch two-layer cake
This is what makes the famous Amy's Bread Pink Cake (page 169) pink. It's essentially the same frosting recipe that's found on the confectioner's sugar boxes from the grocery store, but we add a pinch of salt to mellow out the intense sweetness of the sugar and a dab of poured fondant to give it a smoother texture and make it easier to spread on the cake. To get the pink tint, we use Baker's Rose liquid food coloring instead of red, because we like the particular shade of pink we get with the rose coloring. But 1 or 2 drops of any red food coloring will be fine.
This is a very sweet, heavy, stiff frosting, but you can adjust the spreading consistency by holding back a little of the sugar or adding a few extra drops of milk. Be careful not to make it too soft, or the weight of the frosting will cause it to slip down the sides of the cake and pool around the bottom.
We use this same frosting without the rose coloring on our Definitely Devil's Food Cake (see page 175), to make the Amy's Bread Black and White Cake. Piping a few scattered dots of chocolate frosting on the top and side of the Black and White Cake gives it a whimsical retro look that our customers love.
Ingredients
Confectioner's sugar 7½ cups
Unsalted butter, slightly softened 1⅓ cups
Poured fondant generous ⅓ cup
Milk, whole ¼ cup
Vanilla extract 1 tablespoon + ¼ teaspoon
Kosher salt ⅛ teaspoon
Red food coloring 1 to 2 drops
In a mixing bowl, using an electric mixer with the paddle attachment, beat 600 g/21 oz./5½ cups of the confectioner's sugar, the butter, fondant, milk, vanilla, and salt in the bowl until they are smooth and creamy, 2 to 3 minutes; start out at low speed and increase the speed to medium when the powdery sugar has been moistened. Gradually add the remaining sugar 1 cup at a time until the frosting is of good spreading consistency, scraping the sides and bottom of the bowl often. You may not need to use all of the sugar. The frosting should be stiff enough to hold its shape but not so stiff that you'll be unable to spread it easily on the cake. Add 1 or 2 small drops of red food coloring and continue beating the frosting on medium-low speed until you have a uniform pale pink color. This frosting is heavy but it should still have a fluffy quality.
The frosting can be used immediately or stored in an airtight container at room temperature, but it should be used within 3 days. You may have to stir it briskly to re-fluff it if it's been sitting for a long time.
Credits: The Cake Bible by Rose Levy Beranbaum and The Sweeter Side of Amy's Bread by Amy Scherber and Toy Kim Dupree, photo from www.amysbread.com