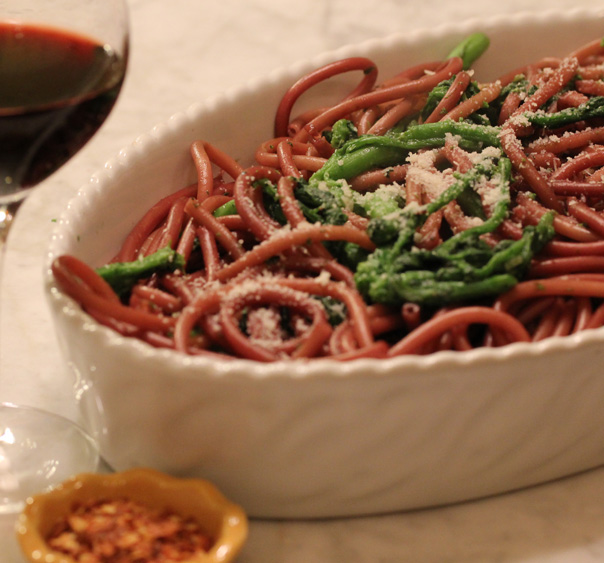 In Michael Chiarello's Bottega, the head notes describe this dish as crowd pleaser. And as a celebration of Zinfandel. Spaghetti always seems to come to the table adorned with tomatoes. Here's a way, by cooking in Zinfandel, to achieve a far more royal red color. A simple marriage of pasta and redness blessed by wine overtones.
Rapini or broccoli rabe usually seems bitter and without charm. Here, the technique lets you enjoy this lovely vegetable treat with absolutely no puckering of your mouth. Merged with the pasta, your brain is likely to be a bit confused. "This looks good, but I can't put it into a category. What is it?" It's Bottega.
Bottega is a book inspired by the flavors of California wine country married with the heritage of Italian food and wine. Beyond this surprising pasta, the book is stuffed with new visions of flavor and delight including:
Green Eggs and Ham where cheese, prosciutto and asparagus are elegantly presented
Butternut Squash and Fontina Risotto with Squab Ragu, a wonderfully complicated assembly of meat and vegetables
Crispy Pork Shanks with Red wine Vinegar Agrodolce and Wine-Cooked Apples, a dish that seems to beautiful to eat
White Chocolate-Lavender Panna Cotta with Madeira-Rhubarb Pappardelle, a dish too complicated to describe, but you are probably already tempted!
This beautiful book, oversized and filled with excellent photographs, is one for you to consider. Start with this different pasta, then do your own explorations.
Zinfandel Spaghettini with Spicy Rapini
Yield: 8 as a first course
Ingredients:
1 ½ pounds rapini [broccoli rabe]
1 pound spaghettini or spaghetti
1 750-ml bottle dry red wine, preferable Zinfandel
1 tablespoon sugar
1/3 cup extra-virgin olive oil
2 tablespoons slice garlic [about 4 cloves]
1 teaspoon Calabrian chile paste or ¼ teaspoon red pepper flakes
1 teaspoon kosher salt or sea salt
½ teaspoon freshly ground black pepper
½ cup grate Pecorino-Romano cheese
Preparation:
In a large pot of salted boiling water, cook the rapini for about 3 minutes. Using a wire skimmer transfer the rapini to a baking sheet and spread out to cool. In the same boiling water, cook the spaghettini, stirring occasionally, for 2 minutes if fresh, 3 to 5 minutes if dried. [Cook spaghetti for 2 minutes if fresh, 6 to 8 minutes if dried.] You'll do the second half of the cooking in the Zinfandel. Reserve 1 cup of the pasta water and then drain the pasta and set it aside. Return the empty pasta pot to the stove.
Add the wine and sugar to the pasta pot. Bring to a boil over high heat and cook to reduce by half, 8 to 10 minutes. Add the pasta to the pot and shake the pot to prevent the pasta from sticking. Gently stir with tongs until coated and boil over high heat, stirring occasionally, until most of the liquid is absorbed and the pasta is al dente [about 3 minute for spaghettini and 4 or 5 minute for spaghetti; tasting tells you when your pasta is ready better than the clock can].
While the pasta cooks in the wine, heat a large deep sauté pan or skillet over high heat. Add the oil, reduce the heat to medium-low and sauté the garlic until pale golden, about 3 minutes. Add the chile paste, blanched rapini, salt and pepper and cook, stirring occasionally , for 1 to 2 minutes. Pour in ½ cup of the reserved pasta water, or more if desired. Add the rapini mixture to the pasta, toss gently, and transfer to individual pasta bowls or one big platter. Sprinkle with the pecorino.
Source: Michael Chiarello's Bottega