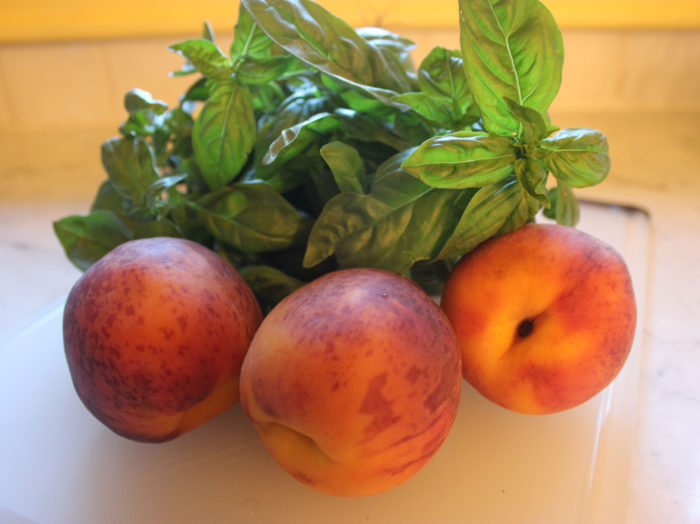 It's a beautiful fall day and at our farmers market you can still find ripe peaches and nectarines. And loads of basil. I don't automatically think of peaches and basil in the same breath, but in fact they do pair wonderfully. You can find many recipes for Peach and Basil Agua Fresca. This recipe is a compendium of several ideas.
The major differences among the recipes are how much basil to use, how much water to employ, and whether to add sugar. Recipes that say to add a "small handful of basil" forget that we all have different hand sizes, so I'm begin specific here and suggesting a half cup for six peaches.
The water use varies, from a cup to 2 ½ cups. Peaches, especially extra ripe ones, can be so juicy that you don't need much water — although the resulting product will be thick out of your blender. Alternatively, you can add water to thin the beverage out. I'm also suggesting adding ice here and, as it melts, that will contribute fluid. I'm suggesting ice here only because I like to drink my agua fresca as soon as it is freshly made. Who can resist that basil scent?
Purists might deride putting sugar in their agua fresca. But I think sugar helps any beverage — it's an illness, okay? — and some sugar can help tame the bite of the basil. You can adjust the sugar amount to suit your preference. Brown sugar is sure to add a flavor dimension.
---
Peach and Basil Agua Fresca
Yield: about 1 quart
Ingredients:
6 large peaches, ripe, peeled and cut into chunks [nectarines are optional here, you'll need about 8 for the same volume]
Juice of one large lemon
1 cup cold water
½ cup of fresh basil leaves
½ cup of brown sugar
½ cup basil leaves
1 cup of ice cubes
Preparation:
Put the ingredients in your blender and process until smooth, at least one minute. If you don't mind the fragments of basil, pour and serve. If you desire, sieve the blender contents, pour into a container and refrigerate. You can add additional water or sugar to suit your taste. For coldness, pour into ice-filled glasses.
---
Source: Brian O'Rourke
Photo Information: Canon T2i, EFS 60mm Macro Lens, F/3.5 for 1/30th second at ISO‑1250