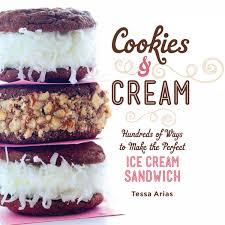 1945. Lots of things happened. I was born. World War II ended. The atomic bomb was tested and used.
And Jerry Newberg in Pittsburg invented something. He worked at the old Forbes field where the Pirates played in air heavy with pollution. In that steel city, summers are hot and expectations are high. So Jerry invented the ice cream sandwich.
This month has seen two books about ice cream sandwiches published. I have both and I love both. This first review goes to Cookies & Cream by Tessa Arias because we've used it at Cooking by the Book. In just over 200 pages, Tessa takes you down every pathway you need to know for great treats: equipment, ingredients, techniques for Philadelphia style and French style ice cream, …
Oh, you didn't know? Philadelphia is made without egg yolks and is fine. French is made with yolks, often involves cooking a custard base, and is divine. Pick your poison.
Tessa provides many cookie recipes and techniques for you. You can of course just drop cookie dough on a sheet, bake them, and mate them with ice cream. But there are ideas here for rolled dough that you cut out to get fun shapes to match a special day or holiday.
There's even a section about storing ice cream sandwiches. I have no idea why she would include that.
Because you are going to eat these goodies. Devour them. There are over fifty recipes here and the recipes are complete. A specific ice cream is paired with a specific cookie. Yes, you can always mix and match on your own, but Tessa has put supreme effort here into finding combinations that will fulfill and delight. For example, consider:
Chocolate Malt: Malted Vanilla Ice Cream with Chocolate Malt Cookies
Elvis: Peanut Butter Ice Cream with Banana Oat Cookies
Pomegranate: Pomegranate Frozen Yogurt with Orange Cardamom Cookies
Chocolate Coconut: Coconut Ice Cream with Double Chocolate Cookies
Salty-Sweet: Salted Caramel Ice Cream with Bacon Chocolate Chip Cookies
Yes, there are some things here you've never tried. But if you have a child, or if you frequently act like one, then Cookies & Cream is for you.
Suzen has already begun to use the individual recipes on their own. For tonight's dinner party, she has brownies ready to go. How to serve them? Add some of that Coconut Ice Cream. It's made with milk, heavy cream, and coco lopez [the goo for pina coladas]. It's NOT over the top too-coconutty like the drink. There is a lovely soft coconut flavor and a super smooth texture. It's rich, but you won't notice. To erase the sin, just do 2 hours on the treadmill the next day.
From that perspective, this may be one of the greatest exercise books ever written.
Treat yourself to Cookies & Cream.